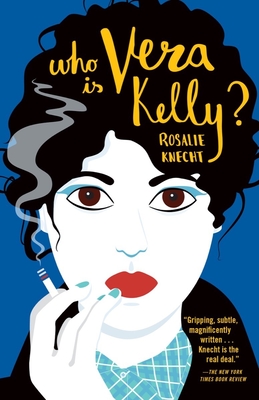 $15.95
Usually Ships in 1-5 Days
Other Books in Series
This is book number 1 in the A Vera Kelly Story series.
Description
---
An NPR Best Book of the Year

"Gripping, subtle, magnificently written."The New York Times Book Review

"A delectable page-turner . . . Vera Kelly introduces a fascinating new spy to literatures mystery canonone we hope sticks around long beyond this snappy, intimate debut." Entertainment Weekly
New York City, 1962. VeraKellyis struggling to make rent and blend into the underground gay scene in Greenwich Village. She's working night shifts at a radio station whenher quick wits, sharp tongue, and technical skills get her noticed by a recruiter for the CIA.

Next thing she knows she's in Argentina, tasked with wiretapping a congressman and infiltrating a group of student activists in Buenos Aires.AsVerabecomes more and more enmeshed with the young radicals, the fragile local government begins to split at the seams. When a betrayal leaves her stranded in the wake of a coup,Vera learns the Cold War makes for strange and unexpected bedfellows, and she's forced to take extreme measures to save herself.

An exhilarating page-turner and perceptive coming-of-age story, Who Is Vera Kelly?introduces an original, wry, and whip-smart female spy for the twenty-first century.
About the Author
---
RosalieKnecht is the author of Who Is Vera Kelly?and Relief Map. She is the translator of Csar Aira'sThe Seamstress and the Wind(New Directions) and a Center for Fiction Emerging Writer Fellow. She resides in New York City.
Praise For…
---
Gripping, subtle, magnificently written . . . This is a cool, strolling boulevardier of a book, worldly, wry, unrushed but never slow, which casts its gaze upon the middle of the last century and forces us to consider how it might be failing us still.
— The New York Times Book Review

Knechts novel is a slow-burn espionage thriller, a complex treatment of queer identity, and an immersive period piece all rolled into one delectable page-turner . . . Vera Kelly introduces a fascinating new spy to literatures mystery canonone we hope sticks around long beyond this snappy, intimate debut.
— Entertainment Weekly

The personal is most definitely political in Rosalie Knecht's crisp, lively and subversive second novel,Who Is Vera Kelly?. . . John le Carr and many other writers make hay with the personal repercussions of assuming false identity. Knecht flips the terms artfully, showing us a heroine who discovers her true tough self by going undercover.
— NPR

Thanks to Rosalie Knecht's clever, hilarious writing, you'll find yourself wanting everyone you know to read it so that you can discuss together the wholly original, brilliantly subversive character that is Vera Kelly.
— NYLON

A splendid genre-pushing thriller . . . A fractured coming-out in the repressive '50s primed Vera for a life of deceptionbut in Knecht's expert hands she's smart and complicated, yearning for connection in a tumultuous world.
— People Magazine

Forget about 007. This heroine has her own brand of spycraft. . . . Given the current popularity of women-in-trouble psychological suspense tales, where much of the action takes place in the heroines anxious mind, its refreshing to read a novel where a capable young woman not only knows how to fix an electrical short in a transformer, but also how to maneuver around the homophobic biases of her own era.
— The Washington Post

A refreshing and idiosyncratic Cold War spy novel.
— BBC Culture

The character readers have been waiting for. A riveting, satisfying novel.
— Kirkus Reviews

Abuzzing, smoky, gin-soaked charmer.
— Library Journal, Hot Picks

When we first meet Vera Kelly, shes a troubled 1950s teenager whos overdosed on Equanil. Next shes in explosive 1960s Buenos Aires after being recruited by the CIA (I could be charming if I wanted to. There were basic tricks). . . . All the edgy fun of classic noir but in an original voice thats fresh, brisk, and snappy. Hugely buzzing.
— Library Journal, Most Anticipated Books of Spring/Summer

Who IsVera Kelly?is the twisty, literary, woman-driven spy novel you've always wanted to read. Vera Kelly hopscotches from Brooklyn to Buenos Aires, fueled by gin and cigarettes, on the run from her past and equipped with a case of listening devices. But this is no ordinary adventure novel: Rosalie Knecht is a sensitive and gifted writer with a lyrical voice that imbues this dazzling novel unexpected emotional depth.
— Amy Stewart, New York Times bestselling author of GIRL WAITS WITH GUN

InWho Is Vera Kelly?, Rosalie Knecht has created a truly fresh and original take on the spy novel, full of suspense and surprise and beautifully observed details of its cold war setting. Best of all is Vera herself, a memorable heroine who seems destined to become an icon of the genre. This is a remarkable and wonderful book!
— Dan Chaon, New York Times bestselling author of ILL WILL

Sardonic, intelligent, and thrillingly original, Rosalie Knecht has not only revitalized the female spy novel with her feisty, indeterminable heroine, shes also joyfully queered it. I loved this book and I loved Vera. Read this book right now!"
— Courtney Maum, author of I AM HAVING SO MUCH FUN HERE WITHOUT YOU

I found myself drawn to the bildungsroman folded into the spy novel. Balancing those two elements in alternating chapters that read like Veras diary entries, Knecht imbues the novel with emotional depth that allows for meditation on human connection.
— Bomb Magazine

A tangled, atmospheric story that gradually builds suspense to a satisfyingly surprising denouement.
— Booklist

Rosalie Knecht performs the seemingly effortless sleight of hand youd expect from any talented spy . .. . The book proves to be both smart and surprising at every twist.
— Entertainment Tonight

One thing Vera Kelly is not is a standard-issue spy. . . . Knecht has written a hybrid novel that is both literary in its attention to character and language, and a thriller where Veras status as a spy makes her a hunted woman who will have to find a way to survive. This intelligent novel about the quest for secret intelligence is a real treat.
— Signature Reads

The lesbian spy novel of your dreams.
— Autostraddle

One of this summer's biggest treats for readers.It's a marvelous combination of a spy thriller, a mystery story, and a historical novel that puts a female twist the genre. Move aside, James Bond.
— Bustle

Theres political intrigue, spycraft, solid location work, and all the things you would want from espionage fiction, but theres also something strange and subversive going on in this story. Knecht has a livewire intellect and I hope she sticks with spy fiction of some kind of another, because this is just the kind of jolt the genre (my beloved genre) needs now and again.
— CrimeReads

When it comes to women spies, the question is no longer, Where in the world is Carmen San Diego? It is, Who is Vera Kelly?
— Refinery29