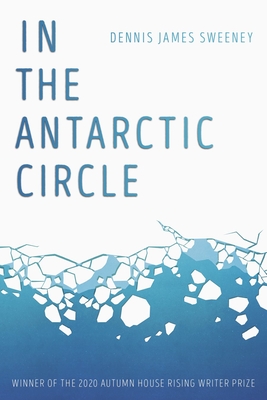 $16.95

Usually Ships in 1-5 Days
Description
---
This collection addresses issues of identity as two people find themselves living in an uncommon landscape. Through hybrid narrative prose poems, Hank and an unnamed narrator try to navigate their relationship and understand their identities amid a landscape that offers them almost nothing. The continent at first seems empty, but something emerges in the vacuum of Antarctica. The narrator's gender skips and changes, and the characters' self-awareness grows into a sort of horror. Dennis James Sweeney's poems consider the fullness of emptiness, revealing attempts to love and grow when surrounded by a white and frigid landscape that seems to go on forever.

The space of these poems is something beyond the Antarctic of scientific exploration, the icy outpost that has served for so long as a masculine proving ground for polar explorers. This is the Antarctica of domestic disharmony, of love amid loneliness, where two people encounter themselves in the changeless breadth at the end of the world.

In the Antarctic Circle is the winner of the Autumn House Press 2020 Rising Writer Prize in Poetry.
 
About the Author
---
Dennis James Sweeney's poems have appeared in Bellevue Literary Review, Passages North, Quarterly West, and the New York Times, among others, and he is a small press editor of Entropy. He is the author of the chapbook Ghost/Home: A Beginner's Guide to Being Haunted, as well as three other chapbooks of poetry and prose. Originally from Cincinnati, he lives in Amherst, Massachusetts, where he is completing a PhD in creative writing at the University of Denver.
Praise For…
---
"In Sweeney's debut collection of hybrid narrative prose poems, In the Antarctic Circle (Autumn House Press), his writing travels. . . to the boundaries of the known world and its most inhospitable continent."
— BOMB

"Of literary 'whiteness' Toni Morrison asked, 'What is it for? What parts do the invention and development of whiteness play in the construction of what is loosely described as "American"? ' In this extraordinary debut collection, Sweeney revisits the question via the snowy, violent terrain of love, loss, and supreme isolation. . . . Through the lenses of dystopia and domestic upheaval, the poet braces us for the shrewd chill of this ultimately uninhabitable place. You almost want to direct the speaker-protagonist and lover Hank to turn back. It's a fool's errand. But you can't stop flipping the pages: 'Though no savior is due, we make a life of waiting. Everyone has every reason to fold.'"
— Yona Harvey, author of You Don't Have to Go to Mar for Love

 
"This elliptical, haunted document is as beautiful and dangerous as the cold continent of which it sings, whispering of loss, of loneliness, of identity, of extinction. A perfect Beckettian marriage between the spoken and the unspoken, the said and the unsayable, this sublime collection speaks as much from its white spaces as from its exquisitely ordered text. In the Antarctic Circle is an unforgettable experience from a master stylist."
— Maryse Meijer, author of The Seventh Mansion: A Novel

"What is love in a habitat in crisis? How does desire survive when the land offers no mercy? These are the questions of Sweeney's In the Antarctic Circle, with its precise and surrealist depictions of ice, snow and wind coupled with aching gestures toward the lover's warm body, somehow always out of reach. 'I am alone in the whiteness. I stretch into it and huddle.' We don't have to visit Antarctica to understand the thrust of these questions; all our landscapes now threaten to reject us. And nonetheless, 'the living are marking what they can.' This exquisite writing is a testament to the effort to survive and to love within a self-generated hostility, a 'climate' of 'whiteness' in which we can only, 'hold our wounds dear, open them repeatedly.'"
— Julie Carr, author of Someone Shot My Book