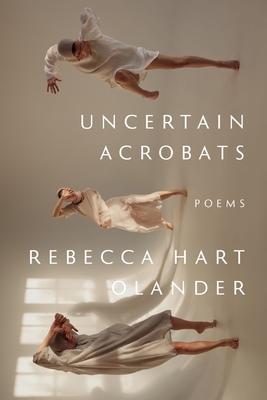 $18.00
Email or call for price.
Description
---
These poems address the universal experiences of death and loss, putting the complicated feelings of grief into words.
 
Uncertain Acrobats evokes the feeling of unraveling. The central concern of this narrative is the death of a parent and the fumbling for balance a dying father and his adult daughter share. Rebecca Hart Olander's intimate collection doesn't shy away from darkness, but it also strives for light, which resides in music and open-hearted humanity. These poems arc across the terrain of divorce, family, childhood, coming of age, mortality, and deep, abiding love, always landing with a foothold in the genuine. A manifestation of what endures after grief has unraveled our closest bonds, Uncertain Acrobats reaches beyond the author's personal experience of grief. This collection speaks to all whose lives have been upended by terminal illness or the loss of a beloved person.
About the Author
---
Rebecca Hart Olander is the author of the chapbook, Dressing the Wounds. Olander lives in western Massachusetts, where she teaches writing at Westfield State University. She is the editor and director of Perugia Press, a nonprofit feminist press.
Praise For…
---
"Uncertain Acrobats compounds the pleasures of poetry and memoir. These crystalline poems chronicle Rebecca Hart Olander's relationship with her talented and charismatic father, his death in 2012 at 68, and its aftermath. By virtue of Olander's brilliant imagery and figurative language, and her mastery of poetic forms, Thomas Seymour Hart is given a tribute that is also a work of art."
— Natasha Sajé

"What else can we do to contain a grief that threatens to overwhelm, but give it, as Shakespeare says, 'a local habitation and a name'? This is what Rebecca Hart Olander does in these beautiful poems. She takes us through the life and loss of her father, 'the wide-awake man,' and shows how, after the stun of death, love turns into longing, and longing into a rich attentiveness to a world suffused with both absence and presence, as when the poet hears a hermit thrush that 'isn't there, then is.' In making her own process of grief so vivid and alive, Olander becomes a guide for others, denying nothing of the pain, but also embracing the world left to her, bequeathed by her father, a world full of stars beyond our reach, but still 'spangling everything in a wash of light.' These are moving, luminous poems."
— Betsy Sholl

"In Uncertain Acrobats, Rebecca Hart Olander uses the trampoline of memory to somersault between here and the past, the living and the dead. These poems will catch your breath and make your heart do flips."
— Tomás Q. Morín