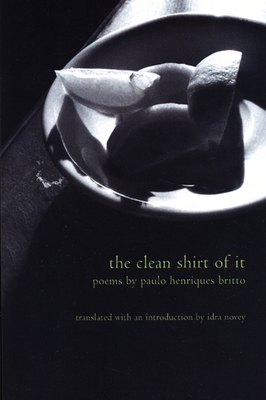 Email or call for price and availability
Description
---
The Clean Shirt of It marks the first English translation of a full-length poetry title by acclaimed Brazilian poet Paulo Henriques Britto. As translator Idra Novey writes in her introduction, "No other contemporary Brazilian poets write like Britto. At least not with such a keen sense of the relationship between form and content, or pop culture and high art."
Paulo Henriques Britto has received Brazil's most prestigious prizes for literature and translation. He lives in Rio de Janeiro, where he teaches at Catholic University.
Idra Novey lives in New York City. She received the 2005 Poetry Society of America New York Chapbook Fellowship.
About the Author
---
Paulo Britto was born in Rio de Janeiro in 1951. His poetry awards include two of Brazil's most prestigious, the Biblioteca Nacional award, and the Portugal Telecom Prize. Britto is also one of Brazil's principal translators of British and American literature. He currently teaches at the Catholic University of Rio de Janeiro. Idra Novel is winner of a 2005 Poetry Society of America Chapbook Fellowship. Her poetry appears regularly in journals and anthologies, and she publishes book reviews and essays in Crossroads, Jerusalem Post, Review of Latin American Literature and Art, and elsewhere. She has taught in Columbia University's Undergraduate Writing Program and at the Catholic University of Chile in Valparaiso.