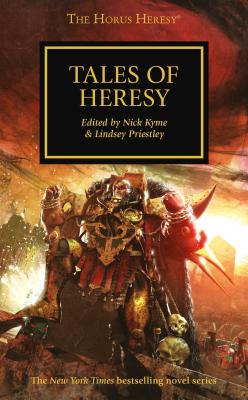 $9.99
Email or call for price.
Description
---
Book ten in the New York Times bestselling series.



This is a reissue of 9781849708180

It is the 31st millennium, and mankind has spread across the galaxy. When Horus the Warmaster rebelled against the Emperor, the ensuing civil war nearly destroyed the Imperium. War raged across galaxy, pitting Astartes against their battle-brothers in a struggle where death was the only victor. This collection features stories of heroism and tragedy set during this turbulent time, by star Horus Heresy authors Dan Abnett, Graham McNeill, James Swallow and more.
About the Author
---
Nick Kyme is the author of the Horus Heresy novels Old Earth, Deathfire, Vulkan Lives and Sons of the Forge, the novellas Promethean Sun and Scorched Earth, and the audio dramas Red-Marked, Censure and Nightfane. His novella Feat of Iron was a New York Times bestseller in the Horus Heresy collection, The Primarchs. Nick is well known for his popular Salamanders novels, including Rebirth, the Sicarius novels Damnos and Knights of Macragge, and numerous short stories. He has also written fiction set in the world of Warhammer, most notably the Warhammer Chronicles novel The Great Betrayal and the Age of Sigmar story 'Borne by the Storm', included in the novel War Storm. More recently he has scripted the Age of Sigmar audio drama The Imprecations of Daemons. He lives and works in Nottingham.