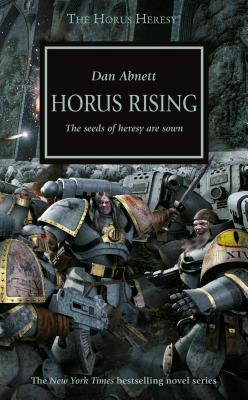 $9.99
Email or call for price.
Other Books in Series
This is book number 1 in the The Horus Heresy series.
Description
---
Re-release of the mass market edition of the first novel in the best selling Horus Heresy series

Under the benevolent leadership of the Immortal Emperor the Imperium of Man has stretched out across the galaxy. On the eve of victory, the Emperor leaves the front lines, entrusting the great crusade to his favorite son, Horus. Promoted to Warmaster, the idealistic Horus tries to carry out the Emperor'sgrand design, all the while the seeds of heresy and rebellion have been sowed amongst his brothers.
About the Author
---
Dan Abnett is a seven-times New York Times bestselling author and an award-winning comic book writer. He has written over fifty novels, including the acclaimed Gaunt's Ghosts series, the Eisenhorn and Ravenor trilogies, volumes of the million-selling Horus Heresy series, The Silent Stars Go By (Doctor Who), Rocket Raccoon and Groot: Steal the Galaxy, The Avengers: Everybody Wants To Rule The World, The Wield, Triumff: Her Majesty's Hero, and Embedded. In comics, he is known for his work on The Legion of Super-Heroes, Aquaman, The Titans, Nova, Wild's End, and The New Deadwardians. His 2008 run on The Guardians of the Galaxy for Marvel formed the inspiration for the blockbuster movie. A regular contributor to the UK's long-running 2000 AD, he is the creator of series including Grey Area, Lawless, Brink, Kingdom and the classic Sinister Dexter. He has also written extensively for the games industry, including Shadow of Mordor and Alien: Isolation