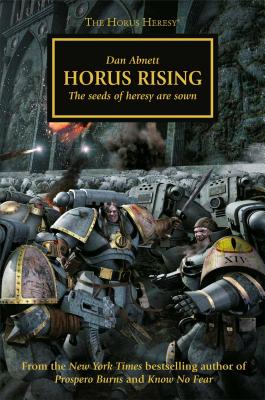 $16.00
Email or call for price.
Other Books in Series
This is book number 1 in the Horus Heresy series.
Description
---
The first novel in the bestselling Horus Heresy series, re-issued in a deluxe trade paperback format It is the 31st millennium. Under the benevolent leadership of the Immortal Emperor, the Imperium of Man has stretched out across the galaxy. It is a golden age of discovery and conquest. But now, on the eve of victory, the Emperor leaves the front lines, entrusting the great crusade to his favourite son, Horus. Promoted to Warmaster, can the idealistic Horus carry out the Emperor's grand plan, or will this promotion sow the seeds of heresy amongst his brothers? Horus Rising is the first chapter in the epic, ongoing tale of the Horus Heresy.
About the Author
---
Dan Abnett is a multiple New York Times bestselling author and an award-winning comic book writer. He has written over forty novels, including the acclaimed Gaunt's Ghosts series, and the Eisenhorn and Ravenor trilogies. His Horus Heresy novel Prospero Burns topped the SF charts in the UK and the US. In addition to writing for Black Library, Dan scripts audio dramas, movies, games, comics and bestselling novels for major publishers in Britain and America. He lives and works in Maidstone, Kent.