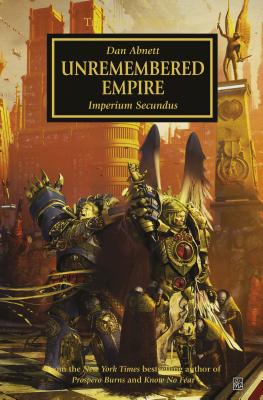 $16.00
Email or call for price.
Other Books in Series
This is book number 27 in the The Horus Heresy series.
Description
---
Believing Terra has already fallen to the Warmaster, Primarch Roboute Guilliman founds the Imperium Secundus.

The unthinkable has happened – Terra has fallen to the traitor forces of Warmaster Horus! Nothing else could explain the sudden disappearance of the Astronomican's guiding light at the heart of the Imperium, or so Roboute Guilliman would believe. Ever the pragmatist, he has drawn all his forces to Ultramar and begun construction of the new empire known as Imperium Secundus. Even with many of his primarch brothers at his side, he still faces war from without and intrigue from within – with the best of intentions, were the full truth to be known it would likely damn them all as traitors for all eternity.
About the Author
---
Dan Abnett is a multiple New York Times bestselling author and an award-winning comic book writer. He has written over forty novels, including the acclaimed Gaunt's Ghosts series and the Eisenhorn and Ravenor trilogies. His Horus Heresy novel Prospero Burns topped the SF charts in the UK and the US. In addition to writing for Black Library, Dan scripts audio dramas, movies, games, comics and bestselling novels for major publishers in Britain and America. He lives and works in Maidstone, Kent.