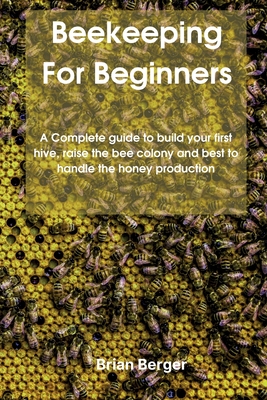 $23.95
Email or call for price.
Description
---
55% Discount For Bookstores NOW at $ 23.95 instead of 34.95 LAST DAYS
Wouldn't it be great to raise your own bees, have a fresh supply of honey, and bring thousands of healthy pollinators into your yard?
Your Customers will like this awesome Book
Beekeeping for Beginners is a simple, step-by-step guide that helps you learn the fundamentals of modern beekeeping. You (and your bees) will be buzzing with delight.
Help your hive thrive with this guide to beekeeping for new-bees.
From picking the right hive and bringing your bees home to surviving winter and collecting honey, experienced beekeeper this complete guide takes you on an easy-to-follow journey through your first year of beekeeping and beyond.
Beekeeping for Beginners includes:
Learn everything you need to know to begin your first colony―written with brand new beekeepers in mind.
Modern beekeeping
Start your colony off right with guides that feature the newest practices and current, natural approaches.
Learn to speak bee.Clearly defined terms and a complete glossary will have you talking like a pro beekeeper in no time.
Begin your beekeeping the right way and avoid getting stung by mistakes
Selecting the best location to place your new bee colonies for their safety and yours
The most practical and nontoxic ways to care for your bees
Swarm control
Using top bar hives
Harvesting the products of a beehive and collecting and using honey
Bee problems and treatments
Information for urban bees and beekeepers
Using your smoker the right way
Better pest management
Providing consistent and abundant good food
Keeping your hives healthy
Buy it NOW and let Your Customers get addicted to this amazing book