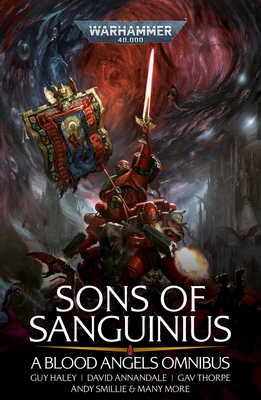 $18.00
Email or call for price.
Description
---
Great value omnibus exploring the Blood Angels and their descendant chapters.

The Blood Angels and their brother Chapters are amongst the Imperium's most dedicated defenders, scions of the Emperor's most beloved primarch. But all the sons of Sanguinius harbour a dark secret… twin curses that threaten to strip them of their sanity and turn them into blood-crazed killers.



Wage war alongside Lemartes, macabre warden of lost souls. Gather behind Chapter Master Amit of the Flesh Tearers, bloody and wrathful. Stand with Mephiston, Lord of Death, conqueror of the Black Rage. Bear witness to some of the greatest battles of the Blood Angels and their Successor Chapters, as they fight the enemies of the Imperium and their own dark urges.



Includes the novels Flesh Tearers, Death of Integrity and Lemartes, as well as two novellas and a number of short stories.


About the Author
---
Nick Kyme is the author of the Horus Heresy novels Old Earth, Deathfire, Vulkan Lives and Sons of the Forge, the novellas Promethean Sun and Scorched Earth, and the audio dramas Red-Marked, Censure and Nightfane. His novella Feat of Iron was a New York Times bestseller in the Horus Heresy collection, The Primarchs. Nick is well known for his popular Salamanders novels, including Rebirth, the Sicarius novels Damnos and Knights of Macragge, and numerous short stories. He has also written fiction set in the world of Warhammer, most notably the Warhammer Chronicles novel The Great Betrayal and the Age of Sigmar story 'Borne by the Storm', included in the novel War Storm. More recently he has scripted the Age of Sigmar audio drama The Imprecations of Daemons. He lives and works in Nottingham.