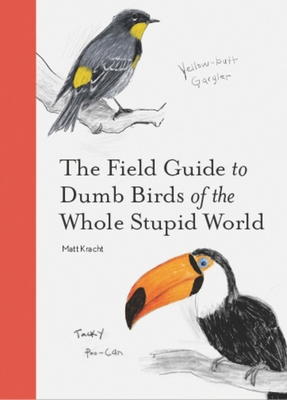 $15.95

Usually Ships in 1-5 Days
Description
---
Let's face it—all birds are fascinating, wonderful, idiotic jerks—no matter where in the world they reside.

Following in the footsteps of the bestselling book The Field Guide to Dumb Birds of North America, this hilarious sequel ventures beyond to identify the stupidest birds around the world. Featuring birds from North and South America, Africa, Asia, Europe, and Oceania, author Matt Kracht identifies the dumb birds that manage to live all over the freaking place with snarky, yet accurate, names and humorous, anger-filled drawings.

This guide book details exactly how much these morons suck with facts about each bird's (annoying) call, its (stupid) migratory pattern, and its (downright tacky) markings. Complete with a matching game, bird descriptor checklist, tips on how to identify a bird (you can tell a lot by looking into a bird's eyes, for example), this profanity-laden book offers a balance of fact and wit that will appeal to hardcore birders and casual bird lovers (and haters) alike.

A MUST-HAVE: A must-have sequel to the bestselling parody book The Field Guide to Dumb Birds of North America.

UNIQUE & LAUGH-OUT-LOUD FUNNY: This is a great coffee table or bar top conversation-starting book. And a bonus, while the content is humorous, it is practical and useful!

A GREAT PRESENT: This is the perfect gift for the bird lovers and haters in your life. It also makes a great Mother's Day, Father's Day, birthday, retirement, or gag gift.

Perfect for:

• Birdwatching and nature enthusiasts
• Armchair birders (or nonbirders)
• Someone who needs a quirky gift for an animal lover friend
• People with serious birders in their lives who want something lighthearted
About the Author
---
Matt Kracht is a writer, illustrator, and amateur birder who enjoys creating books that celebrate the humor inherent in life's absurdities. Based in Tacoma, he enjoys gazing out the window at the beautiful waters of Puget Sound and making fun of birds.
Praise For…
---
"Full of NSFW names and descriptions for different species that'll have you LOL-ing even if you never actually go looking for said birds IRL."
- Buzzfeed
"...Sort of natural science reimagined as a spurned lover's drunken rant."
-The Washington Post
"Snarky and irreverent as this volume is, it's also a soothing counterpoint to all the Very Serious bird guides currently on the market. I've always wanted to get into bird-watching, but every book out there makes me feel hopelessly inadequate. This guide...makes me feel like birding is something I could do."
-The Frumious Consortium
"
The Field Guide to Dumb Birds of the Whole Stupid World
 is the funniest book I've read since
The Field Guide to Dumb Birds of North America
, which we keep in prominent display in our home. I've bought so many copies of that book to give away to friends and relatives that Matt Kracht owes me big-time."
— C.J. Box, #1
New York Times
Best Selling Author of
Dark Sky