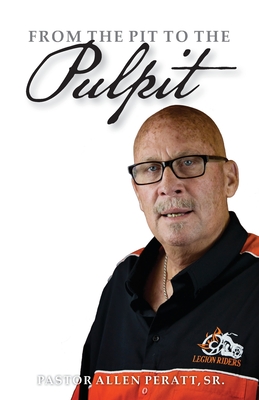 $18.00

Usually Ships in 1-5 Days
Description
---
Allen E. Peratt, Sr. is a pastor, chaplain and cancer survivor whose story has taken him through abuse, addiction, military service, trauma, loss, imprisonment, and, eventually, salvation.
From the moment he was born on April Fool's Day of 1948, it was clear he would face many challenges. Allen's earliest years were marked by abuse, time spent in foster homes, and his parents struggles with alcoholism. As a teenager, he and his family became Christians, and Allen eventually began attending seminary. His own struggles with alcoholism took over, though, and he was expelled from seminary and turned away from his faith, eventually falling into a lifestyle of addiction and crime that would ultimately land him in prison.
Through this unlikely journey, Allen found his way back to God. Allen has devoted the later years of his life to helping others through Christ. He became an ordained minister in 1997, working with addicts, alcoholics, and convicts on the road to salvation. He became the first ex-convict to be a volunteer Chaplain at the South Dakota State Penitentiary. In May of 2011, Allen was granted a Presidential Pardon by President Barack Obama. He credits the saving grace of Jesus Christ for this monumental moment.
Today, Allen serves as the Chaplain for Volunteers of America, Dakotas, a Christian nonprofit based in Sioux Falls, SD, where he is affectionately known as Pastor Al. He and his wife Teresa are the happy parents to two beautiful children, Allen, Jr. and Skyler.