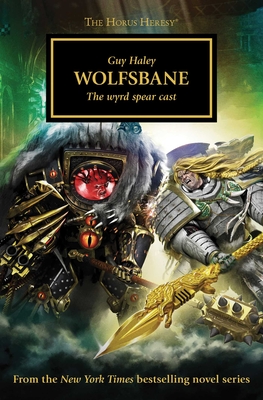 $9.99
Email or call for price.
Other Books in Series
This is book number 49 in the The Horus Heresy series.
Description
---
Book 49 in the global best selling Horus Heresy series. Can the ferocious forces of Leman Russ' Space Wolves legion end the traitors onslaught...

The time has come for Leman Russ, primarch of the Space Wolves, to fulfil his vow and attempt to stop Warmaster Horus before he breaks through to the Segmentum Solar.

In the face of opposition from three of his brother primarchs, Russ withdraws the Space Wolves legion from Terra and makes all haste for Horus's position.

Reports from Malcador the Sigillite's agents suggest that Horus is utterly changed, and infused with a diabolical power so great that no man can stand against him. A warrior of Fenris would never willingly abandon his oaths, but with Horus beyond the touch of mortal blades, the Lord of Winter and War may have doomed himself for the sake of honour…
About the Author
---
Guy Haley is the author of the Siege of Terra novel The Lost and the Damned, as well as the Horus Heresy novels Titandeath, Wolfsbane and Pharos, and the Primarchs novels Konrad Curze: The Night Haunter, Corax: Lord of Shadows and Perturabo: The Hammer of Olympia. He has also written many Warhammer 40,000 novels, including Belisarius Cawl: The Great Work, Dark Imperium, Dark Imperium: Plague War, The Devastation of Baal, Dante, Darkness in the Blood, Baneblade and Shadowsword. His enthusiasm for all things greenskin has also led him to pen the eponymous Warhammer novel Skarsnik, as well as the End Times novel The Rise of the Horned Rat. He has also written stories set in the Age of Sigmar, included in War Storm, Ghal Maraz and Call of Archaon. He lives in Yorkshire with his wife and son.