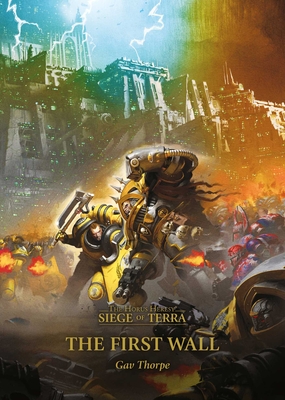 $18.00
Email or call for price
Description
---
Book 3 in the Global best selling Horus Heresy Siege of Terra series

The war for the fate of mankind blazes on. Though the outer defences have fallen, the walls of the Palace itself remain inviolate as Rogal Dorn, the Praetorian of Terra himself, uses every known stratagem and ploy to keep Horus's vast armies at bay. In Perturabo, the Traitor siegebreaker, Dorn faces an adversary worthy of his skill. A terrible, grinding attrition ensues. The crucial battle for the Lion's Gate spaceport is at the heart of this conflict. With it in their possession, the Traitors can land their most devastating weapons on Terran soil. Dorn knows it must not fall. But with enemies attacking from within as well as without and the stirrings of the neverborn drawn to the slaughter, can the Imperial defenders possibly prevail?
About the Author
---
Gav Thorpe is the author of the Horus Heresy novels The First Wall, Deliverance Lost, Angels of Caliban and Corax, as well as the novella The Lion, which formed part of the New York Times bestselling collection The Primarchs, and several audio dramas. He has written many novels for Warhammer 40,000, including Ashes of Prospero, Imperator: Wrath of the Omnissiah and the Rise of the Ynnari novels Ghost Warrior and Wild Rider. He also wrote the Path of the Eldar and Legacy of Caliban trilogies, and two volumes in The Beast Arises series. For Warhammer, Gav has penned the End Times novel The Curse of Khaine, the Warhammer Chronicles omnibus The Sundering, and recently penned the Age of Sigmar novel The Red Feast. In 2017, Gav won the David Gemmell Legend Award for his Age of Sigmar novel Warbeast. He lives and works in Nottingham.