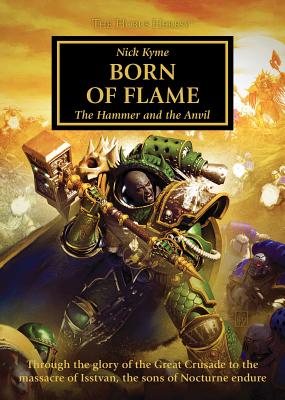 $9.99
Email or call for price.
Other Books in Series
This is book number 50 in the The Horus Heresy series.
Description
---
The Salamanders battle through the Great Crusade and the Horus Heresy in this collection of novellas and short stories that showcase the selfless heroism of the Fireborn.

Born of the fiery world of Nocturne, the Salamanders believe in self-sacrifice and the sanctity of human life. Their father, Vulkan, was raised on this world, a blacksmith's son from humble origins who became a primarch of the Emperor of Mankind and forged his sons into a Legion. Their saga is one of heroism, betrayal, tragedy and rebirth. They have returned from the edge of extinction more than once, forever embattled, never bowed, the Legion and their primarch the epitome of defiance in the face of adversity. Unto the anvil, born of flame.
About the Author
---
Nick Kyme is the author of the Horus Heresy novels Old Earth, Deathfire, Vulkan Lives and Sons of the Forge, the novellas Promethean Sun and Scorched Earth, and the audio dramas Red-marked, Censure and Nightfane. His novella Feat of Iron was a New York Times bestseller in the Horus Heresy collection, The Primarchs. Nick is well known for his popular Salamanders novels, including Rebirth, the Sicarius novels Damnos and Knights of Macragge, and numerous short stories. He has also written fiction set in the world of Warhammer, most notably the Warhammer Chronicles novel The Great Betrayal and the Age of Sigmar story 'Borne by the Storm', included in the novel War Storm. More recently he has scripted the Age of Sigmar audio drama The Imprecations of Daemons. He lives and works in Nottingham.