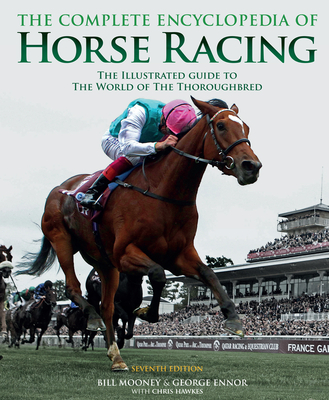 $45.00
Email or call for price.
Description
---
Written by three acknowledged authorities, this seventh edition of The Complete Encyclopedia of Horse Racing tells the story of the sport of kings from its beginnings till today. Revised and updated to include the latest crop of equine superstars, including Golden Horn and US Triple Crown winner American Pharoah, it's visually dazzling and provides essential information on all the top jockeys and trainers, leading owners, and most celebrated horses.
About the Author
---
Bill Mooney served as the associate editor of the old Thoroughbred Record and The Thoroughbred Times, and was a staff writer for Blood-Horse magazine. He has two Eclipse Awards for magazine writing, and also received honorable mentions in the Eclipse competition on four other occasions. He lives in Lexington, KY. George Ennor was a racing correspondent for The Sporting Life for almost 40 years and later a regular columnist for the Racing Post. Until his death in late 2005, he was a consultant to the sports agency Racenews. Chris Hawkes has written numerous books on sports and is in demand as a sports analyst on both radio and television. He lives in London.