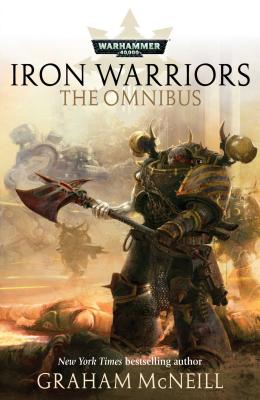 $18.00
Email or call for price.
Description
---
A great omnibus, collecting together Iron warriors stories from two great Black Library authors.


The traitorous Iron Warriors are masters of siegecraft, builders of nigh-impenetrable defences – and just as good at tearing down those of their foes, as these action-packed tales of siege warfare demonstrate.
About the Author
---
Graham McNeill has written many Horus Heresy novels, including The Crimson King, Vengeful Spirit and his New York Times bestsellers A Thousand Sons and the novella The Reflection Crack'd, which featured in The Primarchs anthology. Graham's Ultramarines series, featuring Captain Uriel Ventris, is now six novels long, and has close links to his Iron Warriors stories, the novel Storm of Iron being a perennial favourite with Black Library fans. He has also written the Forges of Mars trilogy, featuring the Adeptus Mechanicus. For Warhammer, he has written the Warhammer Chronicles trilogy The Legend of Sigmar, the second volume of which won the 2010 David Gemmell Legend Award.