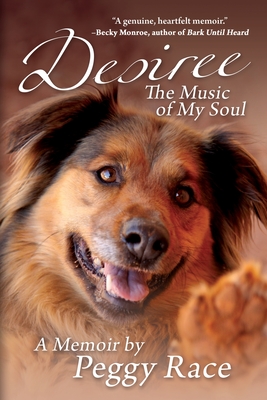 $19.95

Usually Ships in 1-5 Days
Description
---
"A genuine, heartfelt memoir." -Becky Monroe, author of Bark Until Heard
"Readers will undoubtedly enjoy Race's passionate and inquisitive nature." -Kirkus Reviews
Staunch and rooted to her childhood values, Peggy engages in a battle to overcome a failed marriage, the sudden, heartrending loss of her second husband and her own self-doubts. While sandwiched between each layer of uncertainty, Peggy fights her way forward through the love of her dogs.
Amid personal tragedy, Peggy's life takes an unexpected turn when she meets Desiree, a rescued Hurricane Katrina dog. Fueled by the serendipitous connection, Peggy deploys an unending passion for answers as she searches for purpose. As Peggy unravels Desiree's significance in her life, she looks beyond the confines of loss and discovers her true self.
Desiree: The Music of My Soul is a poetic and soul-stirring love story which captures one woman's journey of strength and self-discovery that transcends grief and loss. Filled with hope and inspiration, Desiree: The Music of My Soul, symbolizes the resilience of the human spirit.