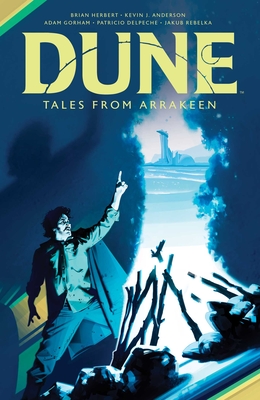 Description
---
Two powerful stories set during the pivotal Battle of Arrakeen set during the original Dune!

UNCOVER THE UNTOLD STORIES OF THE BATTLE OF ARRAKEEN! Jopati Kolona is one of the Sardaukar: the emperor's elite military unit. The Sardaukar are unbeatable, unbending in their devotion, and feared throughout the galaxy. Tasked with overthrowing the Atreides stronghold on Dune for his master, Jopati will be forced to choose between duty and forgiveness. Meanwhile, as Paul Atreides meets his destiny in battle, Sgt. Vitt must use his family's gift of storytelling as a Jongleur to transport his men from their tomb to their homeworld of Caladan. Can Vitt mentally transport them back to the lushness of Caladan and give them the gift of hope in the darkness? Collects Dune: Blood of the Sardaukar #1 & Dune: A Whisper of Caladan Seas #1.
About the Author
---
Brian Patrick Herbert (born June 29, 1947) is an American author who lives in Washington state. He is the elder son of science fiction author Frank Herbert.

Brian Herbert's novels include Sidney's Comet, Prisoners of Arionn, Man of Two Worlds (written with his father), and Sudanna Sudanna. In 2003, Herbert wrote a biography of his father titled Dreamer of Dune: The Biography of Frank Herbert. The younger Herbert has edited The Songs of Muad'dib and the Notebooks of Frank Herbert's Dune. Brian has also created a concordance for the Dune universe based on his father's notes, though, according to the younger Herbert, there are no immediate plans to publish it.