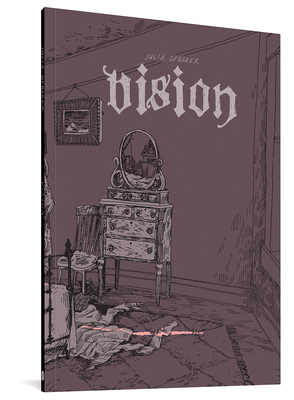 $16.99
Usually Ships in 1-5 Days
Description
---
In this graphic novel, a spinster escapes the demands of life through a sexual relationship with a haunted mirror. 
Julia Gfrörer explores lust, grief, and the human need for connection in this story of a 19th-century spinster and the haunted mirror that offers an escape from her frustrated line. In Gfrörer's thin, careworn lines, her debased and unnerving depictions of the supernatural, and her achingly vulnerable characters, she exposes the emotions that boil beneath the surface of everyday life and the terrible pressure society exerts to keep them hidden. Surrender to the quiet power of her storytelling, which greets you on every page like the embrace of a lover — or the grave. 
About the Author
---
Julia Gfrörer lives on Long Island, where she maintains an extensive collection of black cardigans. Her work has appeared in Kramer's Ergot and Best American Comics. She pronounces her name "gruh fare" but you can say it however you like.
Praise For…
---
A masterful book ... Gfrörer exceeds herself in unflinchingly depicting the slow horror of grief.

Gfrörer continues to build her reputation as one of the foremost contemporary horror cartoonists with this dense and disturbing psychological twist on the haunted house story.

Gfrörer's deliberate pacing creates a sense of creeping dread and impending tragedy in this memorably disturbing, sexually charged ghost story.

Gfrörer's stories feature a mix of elusive reality and foreboding moods, all suggesting something we can't totally conceive and yet understand emotionally, and Vision is as strong and stark as anything that's come before it.


Best suited to those who like light erotica in their Gothic fiction.

A masterful storyteller with a distinctive gothic style, Gfrörer is following in the footsteps of a select group of cartoonists with similar sensibilities. Edward Gorey comes to mind. A contemporary for Gfrörer would be the equally bookish visionary, Kate Beaton.

Gfrörer has earned a
reputation within indie comics for her distinct aesthetic, mumblecore dialogue,
persistent overtones of horror and suffering, and unapologetically sexual
narratives, all of which come together in complex and surprising ways.

Gfrörer is amongst
the most promising artist/authors of her generation. Her work is spare and
elegant, yet the hand of the artist is always evident in her line. She is a
powerhouse.
— Phoebe Gloeckner, author of Diary of a Teenage Girl

Gfrorer's cartooning is perfectly suited to this kind of tale, as her linework is as fragile and delicate as the health (physical and mental) of her characters.