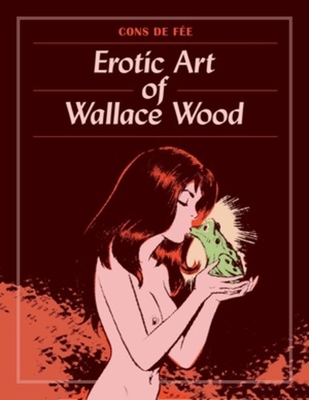 $49.99
Usually Ships in 1-5 Days
Description
---
Fantagraphics has painstakingly assembled the most complete collection of Wood's erotica.
This book collects his early gag cartoons for men's magazines; his wicked takes on
Alice in Wonderland
and the
Wizard of Oz
; and his slyly sexy fairy tales
The Frog Prince,
Cinderella
,
Sleeping Beauty
, and
Hansel and Gretel
— plus his raunchy version of
Snow White
. Wood, who garnered international fame as a premier parodist for
Mad
, also takes aim at comic-book and -strips icons in such stories as "Prince Violate," "Stuporman Meets Blunder Woman," "Flasher Gordon," "Starzan," and even his own character, Sally Forth. Wood's cartoon commentaries on sex and society are included, such as "The Sexual Revolution" and "Brave Nude World." Other rarities include "The Marquis de Sade Coloring Book," "Dragonella," and the complete run of all of his covers for the infamous
Screw
magazine.
About the Author
---
Wallace Allan Wood (1927–1981) rebooted Marvel's Daredevil, designing the iconic costume that recently appeared on the smash hit Netflix series. He was one of the best and funniest cartoonists of the earliest iteration of Mad magazine and, thanks to his work on the EC Comics line, he is also widely considered one of America's greatest science-fiction cartoonists. With his magazine anthology witzend, he helped pioneer underground/independent comics publishing.
Praise For…
---
For fans who consider the 1950s and 1960s the greatest era of comics, Wallace Wood is second only to Jack Kirby. … His fairy-tale sex parodies of the mid-1960s have affinities with his Mad work a decade earlier. The panels are filled to the brim with jokes. The punch lines come out of nowhere. The stories in Cons De Fée, that is to say, is of a piece with everything Wood did.