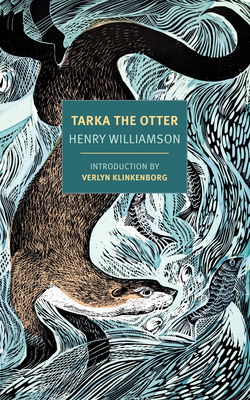 $17.95

Usually Ships in 1-5 Days
Description
---
A classic of nature writing beloved by Rachel Carson, Ted Hughes, and Thomas Hardy.

Tarka the Otter is one of the defining masterpieces of modern nature writing, a model for books like J. A. Baker's The Peregrine that seek to transcend the boundaries between the human and the animal worlds. Henry Williamson's tale of the struggle for survival draws on his years of observing otters in the wild. It is also thought to reflect his traumatic experiences in the First World War.
About the Author
---
Henry Williamson (1895-1977) was born in Brockley, London, in 1895. During the First World War he served at the front as an infantryman and later as a transport officer. In 1921 he left London for rural north Devon, where, apart from a period as a farmer in Norfolk from 1937 to 1946, he lived and worked as a writer for the rest of his life. Tarka the Otter, his seventh book, was awarded the Hawthornden Prize in 1928. He published some fifty books in all, among them The Patriot's Progress, Salar the Salmon, and a fifteen-volume semi-autobiographical novel cycle, A Chronicle of Ancient Sunlight. He contributed numerous articles to newspapers and periodicals and broadcast regularly on BBC radio. He was married twice and had eight children.

Charles Tunnicliffe (1901–1979) attended London's Royal College of Art, where he graduated with distinction from the Etching and Engraving School. In addition to Tarka the Otter, Tunnicliffe illustrated seven other books by Henry Williamson, as well as hundreds of books, magazine articles, nature guides, and postcards. In 1978 he was awarded an Order of the British Empire.

Verlyn Klinkenborg is the author of Timothy; Or, Notes of an Abject Reptile and Several Short Sentences About Writing, among other books. He lives in Columbia County, New York, and teaches creative writing at Yale University.
Praise For…
---
"Williamson's animals are not people, they are not symbols, and they do not speak. They are life itself, the force that through the green fuse drives the flower, manifesting here as a heron, there as an otter, and there again as Deadlock, the slavering, otter-hunting hound. Forget the news; read Williamson, and plunge into the back-brain." — James Parker, The Atlantic

"Reading 'Tarka the Otter' is a beautiful, heady experience—like spending two years wandering a riverbank in rural England. . . . There's no anthropomorphizing here—just an otter's life, with all its perils and joys." —Laurie Hertzel, Minneapolis StarTribune

"The supreme writer of the English countryside." —Christopher Somerville, The Daily Telegraph

"[Tarka the Otter] was hailed as both a popular success and a literary masterpiece, and has never been out of print. . . . Set along the Rivers Taw and Torridge in north Devon, the novel follows the birth, life and inevitable death of Tarka in vivid and lyrical prose that reflects Williamson's intimate study of the natural world. Written from the perspective of the otter, Williamson's narrative is empathetic but unsentimental. Tarka roams and crosses the landscape, encountering other animals, finding mates and surviving in an environment that is at times brutal. This is also fundamentally a tale of the hunted animal: moments of peace are interrupted by the sound of the otter hunt, culminating in a 40 page account of the final chase and battle between Tarka and the hound, Deadlock. . . . In recent years Tarka has been interpreted as an allegory of war." —The British Library

"I was about eleven years old when I found [Tarka the Otter], and for the next year I read little else. . . . It entered into me and gave shape and words to my world. . . . In the confrontations of creature and creature, of creature and object, of creature and fate—[Williamson] made me feel the pathos of actuality in the natural world." —Ted Hughes

"Williamson's 1927 novel about the otters of North Devon . . . sounds cute, [but] it's not: Writing from the perspective of Tarka as he roams the countryside, Williamson emphasizes the brutality and competitiveness of the species, as well as the bloodlust of humans who hunt them because they envy their salmon." —Lorraine Berry, "21 New and Classic Books to Keep You in Touch with the Natural World," The Los Angeles Times