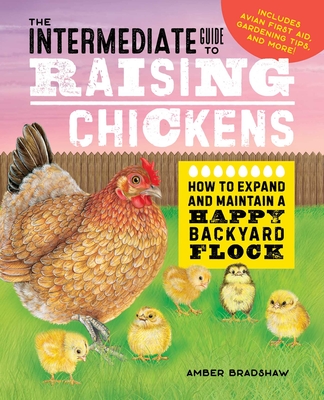 $15.99

Usually Ships in 1-5 Days
Description
---
Take your chicken-raising to the next level with this intermediate guide
Now that you've been raising chickens for a while and know that you're in it for the long haul, you'll need specific guidance designed for the second year and beyond. The Intermediate Guide to Raising Chickens offers comprehensive information, step-by-step instructions, and detailed diagrams to help your established backyard flock thrive and grow for years to come. Learn the best ways to keep your chickens happy and healthy, from enriching their environment to treating common ailments and ensuring proper nutrition.
This mid-level guide to raising chickens includes:
A focus on chickens' needs--Learn about a chicken's hierarchy of needs and how you can accommodate their safety, thermal comfort, access to food and water, and ability to frolic and socialize.
Grow your flock--Once you feel confident caring for your flock, consider expanding it with advice on how to breed chickens, hatch eggs, and care for newborn chicks.
Go beyond your backyard--Turn your backyard chickens into a small business with tips for selling eggs, chicks, and adult birds.
Manage and improve your chicken flock with The Intermediate Guide to Raising Chickens.
About the Author
---
AMBER BRADSHAW is the author of The Beginner's Guide to Chicken Breeds, Beekeeping for Beginners, and The Beginner's Guide to Raising Goats. She's a former 4-H leader, blogger, and public speaker. She enjoys sharing her knowledge with others through events, private instruction, and online at MyHomesteadLife.com.