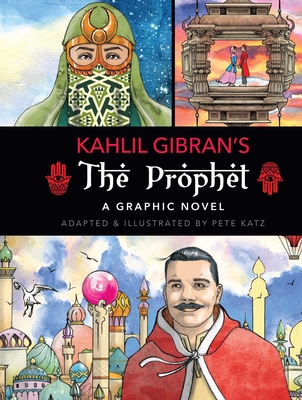 $19.99
Usually Ships in 1-5 Days
Description
---
A moving and thought-provoking adaptation of Kahlil Gibran's classic poem.
 

An enduring and moving commentary on the human condition since its publication in 1923, Kahlil Gibran's The Prophet has been adapted as a graphic novel by award-winning illustrator Pete Katz. In this elegant thread-bound edition, Gibran's classic poem is transformed into a narrative that shows how the words of the prophet Al Mustafa can help modern readers overcome personal struggles. Gibran's original poems are incorporated into full-color scenes so that readers can gain a deeper appreciation for one of the most popular books of the twentieth century.
 
About the Author
---
Kahlil Gibran (1883–1931) was a Lebanese-American poet and artist. Born in the town of Bsharri, Lebanon (then part of the Ottoman Empire), he immigrated to the United States in 1895 and is best known for The Prophet, his book of prose poetry.

Pete Katz is a half-Irish, half-Greek illustrator born in the East End of London, UK. He has been a freelance illustrator for over ten years and has worked for clients including Oxfam, Harvey Nichols, and the British Museum. He is a member of the international Bad Apple Artist Collective and produces portraits and other commissions, as well as working on graphic novels.