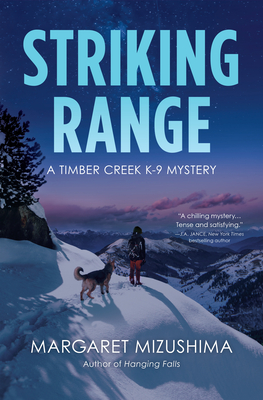 Other Books in Series
This is book number 7 in the A Timber Creek K-9 Mystery series.
Description
---
A deadly secret is buried in the Colorado high country--and murder is only the beginning in the seventh gripping installment of Margaret Mizushima's Timber Creek K-9 mysteries.

He was suspect number one--the man who tried to kill Deputy Mattie Cobb and may have killed her father thirty years earlier. But when Mattie and cold case detective Jim Hauck reach the Colorado state prison where they will finally get to interview him, he's found dead in his cell. There's only one clue: a map leading to Timber Creek and rugged Redstone Ridge.

Though she usually works with veterinarian Cole Walker, Mattie's K-9 partner Robo has just sired a litter of pups, who require special, time-consuming care at Cole's clinic. Left to explore the map's clue without him, Mattie and Robo journey into the burned forest surrounding Redstone Ridge. But before they can finish their search they're called to help investigate the death of a young woman found in a campground filled with elk hunters. Identification of the deceased points to her having recently given birth, but the infant is nowhere to be found.

As a deadly storm descends upon the mountains, covering everything with a layer of ice and snow, Mattie and her team search for the missing newborn. The storm batters the area, taking its toll on the team and forcing the sheriff to call in reinforcements. When new evidence surfaces, they decide that finding the woman's killer will lead them to her baby, making them even more desperate to solve the case.

Then Cole goes missing, stranded alone in the high country with a person that Mattie now suspects is the mastermind behind several murders, including her father's. She and Robo take to the trail to find Cole--but the killer has a cold-blooded plan that threatens them all.
About the Author
---
Margaret Mizushima has a background in speech pathology and practiced in an acute care hospital before establishing her own rehab agency. Currently, she balances writing with assisting her husband with their veterinary clinic and Angus cattle herd. Her fiction has won contest awards, and her short story "Hayhook" was published in the Rocky Mountain Fiction Writers 2014 anthology, Crossing Colfax. She enjoys reading, yoga, and hiking, and lives with her husband on a small ranch in Colorado where they raised two daughters and a multitude of animals.
Praise For…
---
Praise for Striking Range
"This pair of crime-fighters is more skillful and better bonded than any in all of literature...Nobody weaves a tale like Mizushima."
—Saralyn Richard, award-winning author of A Murder of Principal 

Praise for the Timber Creek K-9 Mysteries: "[A] solid sixth outing...Fascinating information about the training and handling of police dogs."
—Publishers Weekly

"An imperfect heroine and her beloved canine sidekick: What's not to like?"
—Kirkus Reviews

"Rich in human interest and guaranteed to delight every dog lover, especially fans of Robert Crais's K-9 Maggie, and Paula Munier's bomb-sniffing Elvis."
—Booklist

"Readers who follow Mattie and Robo will be eager for the updated story line."
—Library Journal

"Hanging Falls is an exceptional mystery, with stunning descriptions, authentic characters, and numerous revelations in store for the thoughtful, engaging Mattie Cobb. Margaret Mizushima has a powerful gift for creating suspense; the adventures of Mattie and her K9 partner Robo are absolutely riveting. 
—Cynthia Kuhn, author of the Agatha-award-winning Lila Maclean Academic mysteries

"Both the human and animal characters feel authentic."
—The Washington Times
 
"Mizushima has a gift when it comes to crafting immersive settings."
—Associated Press
 
"I can't wait for the next adventure from these dynamic partnerships."
—Anne Hillerman, New York Times best-selling author of the Manuelito, Chee, Leaphorn mysteries
 
"Robo's brilliance is matched only by Mizushima's own keen intelligence as she weaves a complex tale of family love and conflict set deep in the Colorado mountains." 
—Scott Graham, National Outdoor Award-winning author of Arches Enemy
 
"As always, Mizushima's knowledge and attention to detail shine through."
—Barbara Nickless, Wall Street Journal and Amazon Charts bestselling author of Ambush
 
"Combining a police procedural with Mattie's personal story creates an anxiety-inducing novel that will remind readers of Nevada Barr's books."
—Library Journal

"Fans who miss Virginia Lanier's 'Bloodhound' series, and readers who relish strong female characters and procedurals with a strong sense of place will want to get better acquainted with Mattie and Robo."
—Library Journal
 
"Will tug the heartstrings of every dog lover."
—Booklist starred review
 
"Winning heroine…A realistic view of how a K-9 team works, treating Robo as an important character, but never stooping to anthropomorphism."
—Publishers Weekly starred review
 
"Mizushima does an excellent job of developing [Mattie and Robo] as characters, allowing readers to feel a personal connection to them both."
—RT Book Reviews, Top Pick
 
"Heart-pounding action and strong, three dimensional characters."
—David Thurlo, co-author of the critically acclaimed Ella Clah, Copper Canyon, and Charlie Henry mysteries.
 
"With plenty of outdoor action, comparing Margaret Mizushima to Nevada Barr and C.J. Box is apt."
—Mark Stevens, author of the award-winning Trapline and Lake of Fire