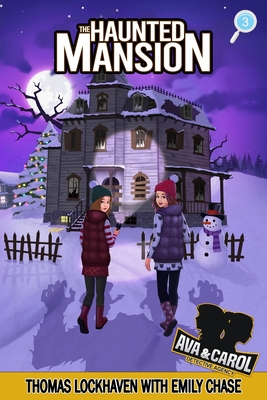 $9.97

Usually Ships in 1-5 Days
Description
---
It's Christmas-so why not accept a dare to explore a creepy old haunted house?
On this third book of the Ava & Carol Detective Agency series, fearless best friends Ava and Carol set out to prove that the Butcher house isn't haunted. Only, Carol is pretty sure she saw something inside one of the windows...
The girls receive an ominous threat: Stay Away or Else Now, more than ever, the girls are determined to find out who is trying to scare them away. But before they can continue their investigation, a string of mysterious robberies take place. The thieves simply vanish without a trace.
Join Ava and Carol as they race against time to track down a headless monster terrorizing the neighborhood, solve the mystery behind the Butcher house and stop a band of ruthless thieves before they strike again
Has been shelved under:
christmas books 2018
christmas books for children 9 years old
children's christmas stories
christmas book
christmas books for children
children's fiction adventure books age 8-10
childrens mystery books ages 8-12
books for girls age 8-10
mystery books for girls 8-10
books for girls grade 3
Ava & Carol Detective Agency fans also love the following:
The Bad Guys
Spy School
Magic Tree House
Ranger's Apprentice
Little House
Dork Diaries
Fablehaven
Howl's Castle
The Mysterious Benedict Society
Mr. Lemoncello's Library
The Crime-Solving Cousins Mysteries
The Amazing Tales Of Max & Liz