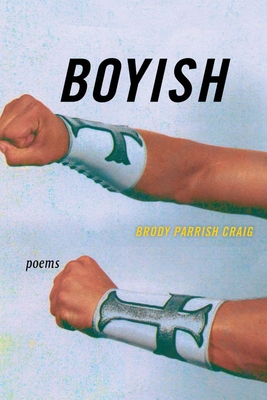 $13.95

Usually Ships in 1-5 Days
Description
---
The poems in Boyish reveal a reconciliation of southern and queer identities, following the poet from a Louisiana Baptist upbringing into transgender liberation. With a sense of rebellion and the revival of the hollered voice, this is an urgent narrative propelled by the necessity of upheaval, imagining what happens when we break through barriers of systemic violence and communal oppression to reconsider what could be. Boyish looks back at the status quo in order to move beyond, into a dream of a nonbinary utopia. A reckoning, this collection brings the reader along for revolution—a deep belief in possibility.

Each page builds tension that then shatters, bringing us into the interior of a story. Brody Parrish Craig invites us to carve out a space and to find ourselves carried over the gravel along the creek. Moving through the subconscious and embodied desire, these poems are rich with formal play, twisting language in dense sonnets. Landscapes of the city's dystopia meet the queer pastoral, where conservation often means knowing what must be burned down.
About the Author
---
Brody Parrish Craig, originally from Louisiana, is a poet and tranarchist who currently lives in the Ozarks. They are an educator and creator of TWANG, a regional creative project for trans and gender nonconforming folks in the South and Midwestern United States. Craig's poetry has appeared in TYPO, EOAGH, Gigantic Sequins, and Crab Fat Magazine, among others.
Praise For…
---
 "The poetry of Boyish exists in that sweet spot between subconscious and cosmos, where the mind can catch any inch of oppression and turn it into music. A genius, Craig, operates a ghost rail line; gut-wrenching rendition of 'Stormy Monday' driven in next to the steel. A book built with lightning, whispered in the soup-line, reading your fortune through scattered tossed bones and bayonet fragments. Watch the best friend you could not protect from a merciless onslaught of violent American hegemony, save their self and become one of the greats; proving that poetry is the cradle that society never mentions."
— Tongo Eisen-Martin, author of Heaven Is All Goodbyes

"Boyish is haunted by ghosts the speaker plays with, like 'holy shit I saw him ghostin' in / my breath I saw him in the glass ceiling.' Sometimes the speaker plays with what haunts them out of curiosity, sometimes out of frustration, sometimes out of love. In any case, it is through this play that they can 'acknowledge the shape [they're] in,' 'The Choir Boy' and 'Hymn' in them they haven't named. Reading the poems in this compact and powerful collection—never has looking back felt this much like moving on."
— Wendy Trevino, author of Cruel Fiction

"All language is dialect—may it be as this collection is—of a queer joy and pain and grace and revival. Sonically, structurally inbuilt with a muscled architecture, grown over with vines of place and god and sexuality—here is a poetics coming of age in itself, and in the world."
— Cody-Rose Clevidence, author of Beast Feast