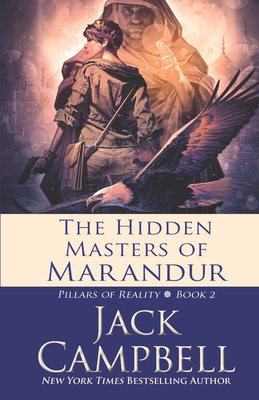 $15.00

Usually Ships in 1-5 Days
Other Books in Series
This is book number 2 in the Pillars of Reality series.
Description
---
The second book of the exciting The Pillars of Reality epic fantasy series, by New York Times bestselling author Jack Campbell
Someone wants to kill Mari, a young steam mechanic in the guild that controls all technology. She has learned that her world of Dematr is headed for a catastrophe that will destroy civilization and that mages really can alter reality for short periods. Someone also wants to kill Alain, a young mage who has learned that mechanics are not frauds, as his guild teaches, and that mechanic Mari is the only person who can prevent the oncoming disaster.
Narrowly escaping death, the mechanic and the mage stay alive thanks to their combined skills, an alliance never before seen. But it becomes clear that both of their guilds, the most powerful forces in the world, are trying to destroy them. Other powers, like the great empire and a mysterious secret order, also seek to kill or capture them using every weapon from imperial legions to mage-created trolls, dragons, and rocs.
Trying to survive and learn the truth about their world so they will know how to save it, Mari and Alain realize the answers they seek may lie in the dead city of Marandur. But Marandur is guarded by the legions that have sealed it off from the rest of the world for more than a century. Mari and Alain's only hope may rest with the unseen masters of Marandur.
About the Author
---
"Jack Campbell" is the pseudonym for John G. Hemry, a retired Naval officer who graduated from the U.S. Naval Academy in Annapolis before serving with the surface fleet and in a variety of other assignments. He is the author of The Lost Fleet military science fiction series, as well as the Stark's War series, and the Paul Sinclair series. His short fiction appears frequently in Analog magazine, and many have been collected in ebook anthologies Ad Astra, Borrowed Time, and Swords and Saddles. The Pillars of Reality is his first epic fantasy series. He lives with his indomitable wife and three children in Maryland.