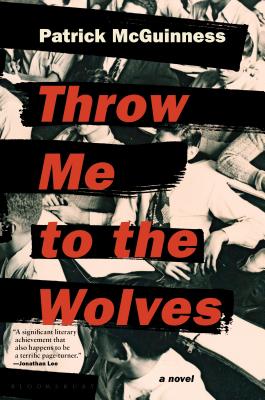 $27.00
Email or call for price
Description
---
"Compulsively readable."—New York Times Book Review

"A significant literary achievement that also happens to be a terrific page-turner."- Jonathan Lee

"Elegantly written, darkly entertaining."- John Banville

"An extraordinary writer of great compassion . . . Stunning."- Denise Mina

In the aftermath of Brexit, the body of a young woman is found by the river Thames, and a neighbor, a retired teacher from Chapleton College, is arrested. An eccentric loner—intellectual, shy, a fastidious dresser with expensive tastes—he is the perfect candidate for a media monstering.

In custody he is interviewed by two detectives: the circumspect Ander, and his workaday foil, Gary. Ander is particularly watchful now, because the man across the table is someone he knows—someone he hasn't seen in nearly thirty years. Determined to salvage the truth as ex-pupils and colleagues line up against the accused, he must face a story from decades back, from his own time as a Chapleton student, at the peak of anti-Irish sentiment.

With the momentum of classic crime fiction, Throw Me to the Wolves follows two mysteries—one unfolding in the media-saturated present, and the other bubbling up from the abusive past of the 1980s English school system. Beautifully written and psychologically acute, it is a novel about memory and childhood, prescient and piercingly funny, as wise as it is tragic.
About the Author
---
Patrick McGuinness is a professor of French and comparative literature at Oxford University. His first novel, The Last Hundred Days, was longlisted for the Man Booker Prize, and his memoir, Other People's Countries won the Duff Cooper Prize and was shortlisted for the PEN/Ackerley Prize. McGuinness lives in Oxford and Caernarfon, Wales. His website is www.patrickmcguinness.org.uk.
Praise For…
---
"Compulsively readable . . . The prose bristles with caustic humor." - The New York Times Book Review

"This is a writer worth knowing . . . [Throw Me to the Wolves] combines elegant prose with caustic commentary on romance, education and crime." - The Washington Post

"Layers literary complexity and depth over a fully satisfying crime story. A smart police procedural that deftly integrates its protagonist's past and present in his search for a murderer." - Kirkus Reviews (starred review)

"This is literary fiction as it should be: in stylish, surprising, lyrical sentences we are forced to confront the hidden power structures, public and private, that control our everyday lives. It's reminiscent of Edward St Aubyn, not only in its pillorying of the elite, but the pleasure McGuinness takes in having his characters say clever things. It's also a proper page-turner." - Melissa Katsoulis, The Times

"Wonderfully unsettling . . . Packs a decidedly noirish punch." - Booklist

"McGuinness's police procedural doubles as a wily takedown of tabloid culture." - Shelf Awareness

"Throw Me to the Wolves is a powerful story of media manipulation and how otherwise decent people can be corrupted by the power of money and influence . . . McGuinness masterfully brings the cases together in an intelligent narrative, both emotional and poignant." - New York Journal of Books

"Throw Me To The Wolves is a significant literary achievement that also happens to be a terrific page-turner. Patrick McGuinness is a writer with a shrewd eye for corruption and hypocrisy in all its forms, and here he turns his attention to the mysteries of memory, groupthink, and political trauma. This is a subtle piece of storytelling wrapped up in a murder mystery, a book that put me in mind of the work of JG Farrell and Patricia Highsmith." - Jonathan Lee, author of High Dive

"A big, serious, elegantly written, darkly entertaining study of what school does to us, and how life afterwards can turn into a nightmare. McGuinness is a novelist of the old school, where the best and most lasting lessons were taught." - John Banville, author of MRS. OSMOND and THE SEA

"An extraordinary writer of great compassion, McGuinness combines a mesmerizing crime novel with a forensic look at the brutalizing mechanisms of the British Public School system. Stunning." - Denise Mina, author of FIELD OF BLOOD

"Throw Me to the Wolves could be described as a crime novel or as a State of the Nation novel. It fits into both those categories, but it offers much more than such convenient labels would suggest. It's a book seriously concerned with, and about, people who function on the fringe of society. Patrick McGuinness is an observant and reflective storyteller of a special kind." - Paul Bailey, author of THE PRINCE'S BOY

"[An] elegiac exploration of memory and the legacy of childhood trauma, Throw Me to the Wolves is intensely powerful, and a beautifully measured evocation of the way that [the past] is far from being dead." - The Guardian

"Confirms McGuinness as one of the finest British authors of his generation--a writer who looks poised, on the evidence of his two magnificent works of prose, to become what Evelyn Waugh called PG Wodehouse: the head of the profession." - Best Global Nonfiction of the Year, New Republic on OTHER PEOPLE'S COUNTRIES

"McGuinness writes so very well . . . Observant, reflective, witty and precise. He is capable of combining the essayistic, the lyrical, the humorous and the aphoristic, sometimes within a single paragraph." - Francine Prose, New York Times

"The sharply observant McGuinness has . . . captured the way corruption and tyranny warp behavior in any society." - Carole Burns, The Washington Post on THE LAST HUNDRED DAYS

"Noir just got a postmodern update . . . With humor and damning insight, McGuinness captures the spirit of this moment, our cultural obsession with information, communication, and outrage." - Quartz

"An inherently riveting read that is laced with a dark humor, rendering it a compulsively entertaining novel from beginning to end." - Midwest Book Review