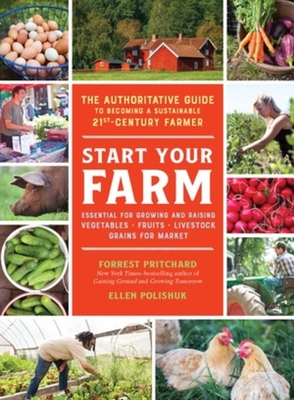 $19.95

Usually Ships in 1-5 Days
Description
---
A totally modern, all-purpose handbook for today's agricultural dreamers—covering the challenges and triumphs of launching any successful farm—from two leading lights in sustainable farming
Do you dream of starting your own farm but wonder where to begin? Or do you already have a farm but wish to become more sustainable to compete in today's market? 
Start Your Farm,
the first comprehensive business guide of its kind, covers these essential questions and more:
Why be a farmer in the 21st century? Do you have what it takes?
What does sustainable really mean, and how can a small (as little as one acre) to midsize farm survive alongside commodity-scale agriculture?
How do you access education, land, and other needs with limited capital?
How can you reap an actual profit, including a return on land investment?
How do you build connections with employees, colleagues, and customers?
At the end of the day, how do you measure success? (Hint: Cash your lifestyle paycheck.)
More than a practical guide,
Start Your Farm
is a hopeful call to action for anyone who aspires to grow wholesome, environmentally sustainable food for a living. Take it from Forrest Pritchard and Ellen Polishuk: Making this dream a reality is not for the faint of heart, but it's well within reach—and there's no greater satisfaction under the sun!
About the Author
---
Forrest Pritchard is a full-time organic farmer who holds degrees from the College of William & Mary. His farm, Smith Meadows, was one of the first "grass-finished," free-range endeavors in the country, and has sold at leading farmers' markets in Washington, D.C. for more than fifteen years. Pritchard is the author of the New York Times-bestselling book Gaining Ground: A Story of Farmers' Markets, Local Food and Saving the Family Farm, picked as a top read by The Washington Post, Publishers Weekly, and NPR's The Splendid Table. The primary blogger for the Facebook page "I Support Farmers' Markets," the largest online farmers' market fan page, he is also a popular public speaker, having given addresses at RAND, Texas Organic Farmers Association, and Weston A. Price International, among others. Pritchard lives with his family on Smith Meadows in Berryville, Virginia.

Ellen Polishuk is a first-generation sustainable vegetable farmer, holding a degree in Horticulture from Virginia Tech. A self-described "compost queen," Ellen grew up in the suburbs of Washington DC in the 60s and 70s. She was born loving plants, collecting houseplant "pets" by age seven, and renting a garden plot at age ten. By age sixteen, a summer farming job marked the beginning of her agricultural career. Ellen worked for several years in the vegetable seed business in California. In 1992, with five farm seasons under her belt, she was hired by Potomac Vegetable Farms to manage their satellite farm in Virginia, fifty miles west of DC. After twenty-five years at Potomac Vegetable Farms, where she was a co-owner, she now consults and teaches full-time, specializing in sustainable agriculture, vegetable growing practices, and increasing farm profitability. Ellen and Forrest are longtime colleagues at Arlington Farmers Market.
Praise For…
---
"Start Your Farm is an eminently readable, entertaining, and important book for new farmers. The authors don't hold back on the tough parts of farming. They coach the reader on how to overcome obstacles and reap the financial and emotional rewards on the other side. I recommend this book to anyone looking to make the brave leap into a farm career."—Lindsey Lusher Shute, co-founder of the National Young Farmers Coalition

"This book is full of wisdom, wit, and practical advice from two of the most respected figures in agriculture today. Anyone interested in farming for a career should pick up a copy. There is no career more rewarding than farming, and this book eases the burden for those starting out."—Ben Hartman, author of The Lean Farm and The Lean Farm Guide to Growing Vegetables

"A must-read for anyone who feels called to be a farmer. Start Your Farm is the most insightful, honest, challenging, and yet joyful and hopeful book I have read for would-be farmers. Prichard's and Polishuk's decades-long experiences in striving to farm sustainably also provide valuable insights into what it will take to farm successfully in the twenty-first century. Read this book and learn from two truly professional farmers."—John Ikerd, Professor Emeritus of Agricultural Economics, University of Missouri

"If you have romantic Instagram ideas about living off the land, you need to read this book. Jam-packed with practical advice and real-life vignettes, Start Your Farm gives you the down and dirty—the financial, emotional, and physical aspects of running a working farm. But this gritty realism is perfectly balanced with hope and encouragement. Pritchard and Polishuk not only talk the talk, but walk the walk, and they will guide you through the intricacies of starting a farm of your own. If you have what it takes, that is!"—Lisa Steele, author of Fresh Eggs Daily

"If you dream of farming, Start Your Farm provides proven practical advice, delivered with a sense of humility and humor. It's as much a 'why' as a 'how-to' book, separating it from the plethora of guides for beginning farmers. Clear, concise, and highly useful, this book will help you make smarter decisions and fewer mistakes. I wish I had access to this kind of wisdom when I started farming forty-eight years ago. Get out there and farm, and carry this valuable info with you!"—Amigo Bob Cantisano, founding member of Organic Ag Advisors and The Ecological Farming Association