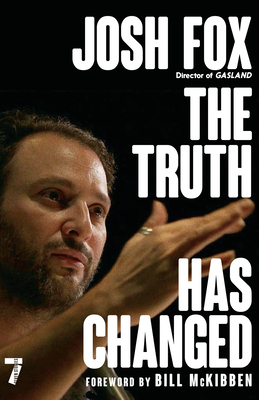 $16.95

Usually Ships in 1-5 Days
Description
---
The Emmy Award–winning creator of GASLAND tells his intimate and damning, personal story of our world in crisis. With a foreword by Bill McKibben.

            The rules have changed.
            The water has changed.
            The climate has changed.
            The truth has changed.
            We must change.

In The Truth Has Changed, Josh Fox turns the rapid-fire shocks that are remaking the very fabric of our lives—writing as a first responder, a reporter, a documentarian, and an activist—into art, literature, and at least one answer to the question of what the future holds.

Our normal isn't normal anymore.

The paradigm shift that global warming represents parallels a paradigm shift in how we process truth. Both deeply affect democracy.

Josh Fox has had a front row seat—a first responder after 9/11, filming the Deepwater Horizon spill close up from the air and on the ground, a member of Bernie Sanders's delegation of the Democratic Platform Committee, risking his life to cross a bridge on Thanksgiving Day at Standing Rock, traveling the nation and the world, shooting his films, talking to people everywhere he goes.

The Truth Has Changed is his first book, the companion to his new one-man show of the same title, and it's beautiful.
About the Author
---
The only journalist ever arrested in Congress for doing journalism, Josh Fox is the man who made "fracking" a household word as writer/director/narrator of the Oscar-nominated, Emmy-winning film GASLAND. His short videos on climate interruption, Standing Rock, Bernie Sanders, and fracking have gone viral and been viewed over sixty million times. Josh is the founder and producing artistic director of the International WOW Company, which has produced over forty new plays to consistently rave reviews. He has toured to over five hundred American cities to speak to people about climate change and the proliferation of fossil fuel extraction, raising awareness at the grass roots. Josh's other films include the award-winning How to Let Go of the World and Love All the Things Climate Can't Change, and AWAKE, a Dream from Standing Rock. Josh has appeared on The Daily Show with Jon Stewart, Real Time with Bill Maher, CBS World News Tonight, The Colbert Report, The Diane Rehm Show, NPR's Morning Edition and All Things Considered, Last Call with Carson Daly, All In with Chris Hayes, Democracy Now!, and many other national broadcasts, and in the New York Times, the Wall Street Journal, the Los Angeles Times, the Washington Post, Time magazine, and many other national and metropolitan publications. He lives in New York City and New Orleans. The Truth Has Changed is his first book.
Praise For…
---
"Entertaining, funny, insightful and important." —Tim Robbins

"Josh Fox is truly one of my favorite artists because his soul is intertwined with his political determination. With The Truth Has Changed he delivers a jaw-dropping journalistic expose as a radical act of love.  His performance is nuanced, riveting and relentless. Don't miss it." —Frances Fisher

"The Truth Has Changed is one of the most extraordinary tracts I've ever read." —Greg Palast
 
"Josh Fox is a remarkable human being, and The Truth Has Changed is a remarkable document, bringing together his many lives: artist, truth teller, campaigner . . . Art is for breaking through numbness, and Josh Fox is an artist above all. That his art flows from fact, from science, from study makes it not dry and academic but immediate and desperate and necessary." —Bill McKibben, from the foreword)
 
"Josh Fox is one of the most adventurous impresarios of the New York avant-garde." —The New York Times
 
"One of downtown's most audacious auteurs." —Time Out New York