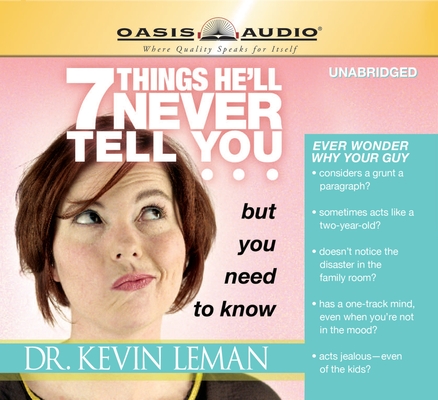 $22.99
Email or call for price.
Description
---
Want to know why your guy acts the way he does? Who he is... when no one's looking? What he craves more than anything else? (Hint: It's not what you think.) If you know where to look, the clues are all there—in his eye roll, crossed arms, sigh, and "the grunt." In what he says quietly but means loudly . . . and in what he doesn't say at all. 7 Things He'll Never Tell You will teach you "manspeak." It'll transform your relationship from ho-hum to exciting, from exasperating to fulfilling, from good to great . . . and into the most satisfying partnership you could imagine!
About the Author
---
Dr. Kevin Leman, internationally known psychologist, founder of matchwise.com, radio and television personality, and speaker, has taught and entertained audiences worldwide with his wit and commonsense psychology. The best-selling and award-winning author has made house calls for numerous radio and television programs, including The View with Barbara Walters, Today, Oprah, CBS's The Early Show, Live with Regis Philbin, and LIFE Today with James Robison. Dr. Leman is a frequent contributor to CNN's American Morning and has served as a contributing family psychologist to Good Morning America. Dr. Leman and his wife, Sande, live in Tucson, Arizona, and have four daughters and one son.