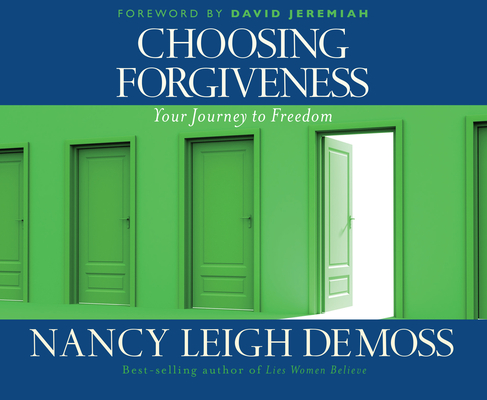 $21.99
Email or call for price.
Description
---
It's time to get your life back. Perhaps you still remember the moment - the time of day, the look in the other person's eye when you were hurt, when your hopes and dreams were damaged by someone you trusted. And since then your life has been put on hold, sabotaged by harbored resentment, dreams of revenge, or perhaps indifference and numbness. Or it may be just the "stuff" of every day life and relationships that has left you with a knot in your stomach and a dull ache in your heart. There are no magic words or secret formulas for forgiveness. But there are biblical principles that can help you break free from bitterness and pain. In Choosing Forgiveness, celebrated teacher Nancy Leigh DeMoss delves into God's Word to uncover the promises and expose the myths of forgiveness. Discover specific strategies for putting God's grace and mercy into practice, forgiving others as God has forgiven you. No one says it will be easy. But it could save your life. Break free. Choose forgiveness.
About the Author
---
For more than 25 years, Nancy Leigh DeMoss has communicated her burden for both personal and corporate revival in conferences and retreats throughout North America and abroad. Nancy is author of A Place of Quiet Rest, Lies Women Believe, Walking in the Truth, Brokenness, Surrender, Holiness, and she co-authored Seeking Him, an interactive Bible study on revival. She is also the general editor of Biblical Womanhood in the Home. Since 1980, Nancy has served on the staff of Life Action Ministries, a revival ministroy based in Niles, Michigan. Nancy is the host and teacher for Revive Our Hearts and Seeking Him, two nationally syndicated radio programs, heard each weekday on nearly 1,000 radio station outlets.
Praise For…
---
"Forgiving someone who has hurt you is often difficult. Nancy Leigh DeMoss outlines a pathway to freedom from the prison of bitterness, anger, and an unforgiving spirit. She believes that most people harbor a seed, if not a forest, of harsh or bitter feelings toward someone else. Learning to forgive opens the door to joy and peace. Christine Dente narrates in a deliberate and clear style, making the many illustrations and examples in the book come to life. This is an important book for those who deal with feelings toward people or events that have caused pain." 
N.L. © AudioFile Portland, Maine