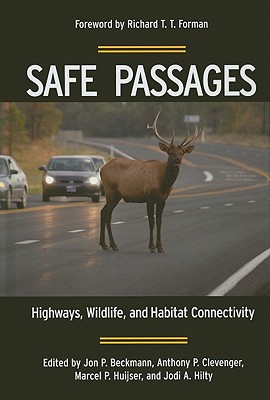 Email or call for price and availability
Description
---
Safe Passages
brings together in a single volume the latest information on the emerging science of road ecology as it relates to mitigating interactions between roads and wildlife. This practical handbook of tools and examples is designed to assist individuals and organizations thinking about or working toward reducing road-wildlife impacts. The book provides:
an overview of the importance of habitat connectivity with regard to roads
current planning approaches and technologies for mitigating the impacts of highways on both terrestrial and aquatic species
different facets of public participation in highway-wildlife connectivity mitigation projects
case studies from partnerships across North America that highlight successful on-the-ground implementation of ecological and engineering solutions
recent innovative highway-wildlife mitigation developments
Detailed case studies span a range of scales, from site-specific wildlife crossing structures, to statewide planning for habitat connectivity, to national legislation. Contributors explore the cooperative efforts that are emerging as a result of diverse organizations—including transportation agencies, land and wildlife management agencies, and nongovernmental organizations—finding common ground to tackle important road ecology issues and problems.  
Safe Passages
is an important new resource for local-, state-, and national-level managers and policymakers working on road-wildlife issues, and will appeal to a broad audience including scientists, agency personnel, planners, land managers, transportation consultants, students, conservation organizations, policymakers, and citizens engaged in road-wildlife mitigation projects.
About the Author
---
Anthony P. Clevenger is a wildlife research ecologist currently contracted by Parks Canada to study road effects on wildlife populations in the Banff- Bow Valley and the surrounding national and provincial parks. In that capacity, his research has focused primarily on the factors influencing mammal passage through drainage culverts and wildlife crossing structures, developing GIS-based modeling approaches to identify mitigation placement along roads, and investigating spatial patterns and factors influencing wildlife road mortality. He has worked as a wildlife biologist for the World Wide Fund for Nature–International (Gland, Switzerland), Ministry of Environment–France (Toulouse),U.S. Forest Service, and U.S. National Park Service. Dr. Clevenger is a graduate of the University of California, Berkeley, has a master's degree in wildlife ecology from the University of Tennessee, and earned a doctoral degree in zoology from the University of León, Spain. He has been an adjunct assistant professor at the University of Tennessee since 1989 and at the University of Calgary since 1998.
RichardT.T. Forman is the PAES Professor of Landscape Ecology at Harvard University, where he teaches ecological courses in the Graduate School of Design and in Harvard College. His research and writing include landscape and regional ecology, road ecology, land-use planning and conservation, and spatially meshing nature and people in the land mosaic. Forman served on two National Academy of Sciences committees on surface transportation and the environment and began publishing road ecology articles in 1996. His books include Land Mosaics:The Ecology of Landscapes and Regions (Cambridge University Press, 1995) and Landscape Ecology Principles for Landscape Architecture and Land-Use Planning (Island Press, 1996). He is a fellow of the AAAS; served as vice president of the Ecological Society of America and the International Association for Landscape Ecology; has received medals and honors from Italy, Australia, France, the Czech Republic, China, and the United Kingdom; was named Distinguished Landscape Ecologist (USA); and received the Lindback Foundation Award for Excellence in Teaching. He received a Haverford College B.S., a University of Pennsylvania Ph.D., and honorary degrees from Miami University, Harvard University, and Florida International University, and has taught at the University of Wisconsin, Rutgers University, and in Central and South America.

Praise For…
---
"Safe Passages is a valuable sequel to Road Ecology...This new work synthesizes current and emerging mitigation techniques for diminishing the impacts of roads on terrestrial and aquatic species. Topics include the disruption of wildlife habitat connectivity, overpass and underpass crossing structures, fencing, highway design/construction, and water barriers...This work is valuable for a broad readership, but it is especially appropriate for transportation and civial engineers, conservation biologists, landscape ecologists, and wildlife managers."
— Choice
"The authors of Safe Passages offer a comprehensive, state-of-the-art synthesis of road ecology, skillfully integrating conservation science, policy, and transportation planning. This book delivers the powerful and hopeful message that it is possible to resolve complex environmental issues through cooperation, collaboration, and coordination. It is essential reading for students and practitioners engaged in developing creative solutions for mitigating the negative impacts of roads on wildlife."
— Sharon K. Collinge, Associate Professor, Department of Ecology and Evolutionary Biology
"Wildlife corridors and transportation corridors are literally the collision crossroads of ecology and economy. At this intersection lies one of the greatest conservation challenges of our time—aligning the needs of wildlife to move through landscapes for their survival with the needs of people to move to sustain their livelihoods. Safe Passages documents stories of conservation hope and success."
— Gary M. Tabor, Director, Center for Large Landscape Conservation
"Ironically, an increasing proportion of human interactions with wildlife are from the very vehicles that daily litter roadsides with carcasses. This book is a practical guide to a problem that must be solved."
— Hugh Possingham, University of Queensland, Australia
"Safe Passages thoughtfully explains the importance of integrating wildlife concerns into the transportation project development process and makes a sound case for working collaboratively to minimize the effects of roads on the natural environment. Don't just read this important book—consider it a call to action to save what we truly treasure."
— Mary E. Gray, Environmental Protection Specialist, Federal Highway Administration
"Safe Passages...details case studies at mitigating risk to wildlife, humans and the environment on the increasingly fast-paced lanes of the nation's highways."
— Bozeman Daily Chronicle
"Safe Passages: Highways, Wildlife and Habitat Connectivity—edited by WCS Conservation Scientist Jon Beckmann and WCS North American Program Director Jodi Hilty—details the latest developments in the evolving science of road ecology and provides a 'tool-box' for individuals and organizations engaged in reducing road-wildlife impacts."
— Stephen Sautner, Wildlife Conservation Society
"The editors (two of the Wildlife Conservation Society and two of the Western Transportation Institute at Montana State U.) present 17 papers exploring recent work in the relatively new discipline of road ecology, which centers on understanding the interactions between road systems and the natural environment. Focusing primarily on highways, the papers review and synthesize current methods of planning approaches and technologies for mitigating the impacts of highways on terrestrial and aquatic species; examine issues of public involvement in highway-wildlife connectivity mitigation projects in North America, describe case studies of different approaches for developing organizational partnerships for mitigation projects, and review recent innovative technological and institutional developments."
— Reference & Research Book News
"This book will be a valuable resource for wildlife ecologists and transportation agencies that engage in wildlife-transportation issues..Because of its application of science to management and encouragement for collaboration between scientists, policy makers, and the general public, Safe Passages: Highways, Wildlife, and Habitat Connectivity by Beckmann et al. would be a useful addition to upper-level and graduate courses that examine decision-making, urban and regional planning, human-wildlife interactions, and landscape ecology. A fine new standard of road ecology has been set for the 2nd decade of the 21st century, one that provides direction for future study."
— Journal of Mammalogy
"...a welcome contribution to the literature and will be of particular value for managers."
— Conservation Biology