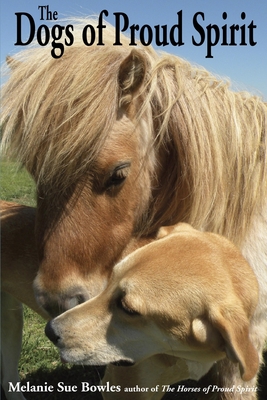 $18.95
Email or call for price
Description
---
What does an unlikely pack of stray and homeless dogs have in common with a certain herd of downtrodden horses? They were all lucky enough to wind up in the loving arms of Melanie Sue Bowles and her husband, Jim founders of Proud Spirit Horse Sanctuary. Author Melanie Sue Bowles introduced readers to this extraordinary place of healing in her debut book, The Horses of Proud Spirit, and in the inspiring sequel, Hoof Prints: More Stories from Proud Spirit. Now Melanie graces readers once again with unforgettable true stories, this time about the numerous dogs who have found their way to the Bowles's gate and into their hearts.
Theres the story of the three beagle-mix girls--Trixie, Trudi, and Daisy--found by the side of the road when they were only days old. Then there are the Corgis, with their stout little bodies and rambunctious personalities. They weren't perfect, so their previous owners had no use for them. But now Kitty, Tucker, Kirby, and Cricket have a forever home at a place called Proud Spirit.
The Dogs of Proud Spirit is a testament to the undeniable truth that animals enrich our lives. They give us--and teach us to give--boundless joy and unconditional love.

Next in series > >
See all of the books in this series
About the Author
---
Melanie Bowles, along with her husband, Jim, is the founder of Proud Spirit Horse Sanctuary. Since its modest beginnings in the early 1990s on just five acres of land in southwest Florida, Proud Spirit has evolved into an award-winning, 300-plus-acre facility and one of the most successful, longest-running sanctuaries for horses in the United States. Over the years, Melanie and Jim have intervened on the behalf of nearly 300 horses in need. Melanie is the author of three books that chronicle life at this unique ranch: The Horses of Proud Spirit, Hoof Prints: More Stories from Proud Spirit, and The Dogs of Proud Spirit.