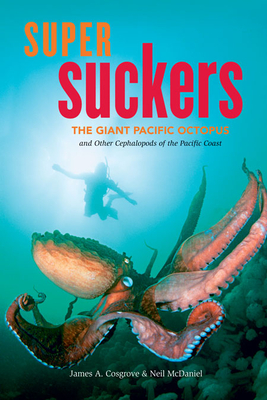 $26.95

Usually Ships in 1-5 Days
Description
---
Is there a more bizarre-looking animal in the sea than the octopus? A baggy, boneless body surmounted by a pair of soulless eyes and fleshy horns. Eight snake-like arms with hundreds of suction cups, a stubby funnel projecting like a left-over piece of fire hose... not to mention its three hearts and blue blood. The word cuddly doesn't spring to mind when contemplating these creatures but all are superbly mobile and beguilingly clever.

This book is the culmination of more than forty years of undersea photography and study of the most impressive octopus on the Pacific coast, the giant Pacific octopus. This fascinating monster of the deep--the largest known octopus species in the world--is a master of disguise that can mimic not only the colour but also the texture of its surroundings. It can alter its shape so effectively that small specimens have escaped captivity by slithering down aquarium filter pipes. Wet, cold and slimy, it hunts and pulls apart hardshell crabs. Normally shy, it may interact with divers it comes to recognize. It can learn how to pry open a food container and remember the technique for the next feeding.

Groundbreaking research and previously unpublished biological behaviours are presented along with octopus legends, anecdotes from aquarists and divers and colour photographs of the giant Pacific octopus and other cephalopods found along the Pacific coast, including the Humboldt squid and ruby octopus.
About the Author
---
James A. Cosgrove (M.Sc.), a leading expert on the giant Pacific octopus, began scuba diving in 1959. He is a founding member of the Canadian Association for Underwater Science (CAUS) and has provided his expertise to documentary film crews from around the globe. Before his retirement in 2007, Cosgrove worked as manager of the natural history section at the Royal BC Museum. He lives in Victoria, BC. Neil McDaniel has been photographing marine life since
1969 when he learned to scuba dive while completing a degree in marine zoology at the University of British Columbia. After graduation, he worked as an ecology technician at the Pacific Environment Institute in West Vancouver and later became the editor of DIVER magazine. McDaniel currently works as a freelance photographer and cinematographer. He lives in Vancouver, BC.