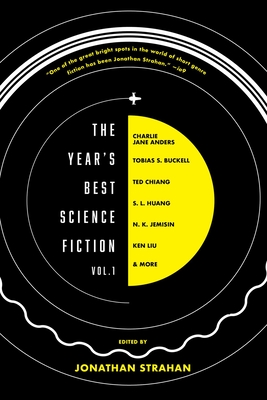 $17.99

Usually Ships in 1-5 Days
Description
---
The definitive guide and a must-have collection of the best short science fiction and speculative fiction of 2019, showcasing brilliant talent and examining the cultural moment we live in, compiled by award-winning editor Jonathan Strahan.

With short works from some of the most lauded science fiction authors, as well as rising stars, this collection displays the top talent and the cutting-edge cultural moments that affect our lives, dreams, and stories. The list of authors is truly star-studded, including New York Times bestseller Ted Chiang (author of the short story that inspired the movie Arrival), N. K. Jemisin, Charlie Jane Anders, and many more incredible talents.

An assemblage of future classics, this anthology is a must-read for anyone who enjoys the vast and exciting world of science fiction.
About the Author
---
Jonathan Strahan was born in Belfast, Northern Ireland, in early 1964. He moved to Australia in 1969 where he in short order helped to fight a bushfire, shook hands with an astronaut, and became convinced he'd become a geologist and live on Mars. It's not surprising that he fell in love with science fiction early, or that he spent far too much time reading. He went on to graduate from college with an interesting but not particularly useful arts degree, but had met people that led him directly into science fiction itself. He coedited and copublished Eidolon, an award-winning Australian semiprozine, in the 1990s before starting to work for Locus in 1997. That led directly to Jonathan becoming a reviewer, and going on to edit nearly 100 books. He has won the World Fantasy, Aurealis, Ditmar, and Locus Awards, and has been nominated 15 times for the Hugo Award. He is also the cohost and producer of the Hugo Award–nominated Coode Street Podcast. He still lives in Western Australia with the former managing editor of Locus and their two children.
Praise For…
---
Strahan packs the first volume in Saga's Year's Best Science Fiction anthology series with 28 diverse and brilliant stories... [His] thoughtful selections offer a sometimes chilling, always fascinating look at the best of the genre.
— Publishers Weekly, STARRED REVIEW

"Exploring critical issues impacting humankind—from climate change to racism to mass shootings—this timely and thematically profound anthology of the year's best short-form science fiction is filled with thought-provoking gems."
— Kirkus Reviews