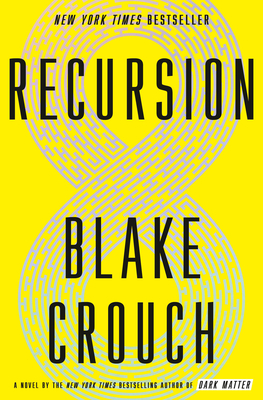 $27.00
Coming Soon
Available for Pre-Order Now
Staff Reviews
---
Signed first-edition copy with pre order!
IMPORTANT: If you'd like Blake to sign your name, leave a note with the name you'd like signed in the comments when you go to finalize your order.
In order to guarantee your signed copies arrives within a day or two of the on sale date, please make sure your order is placed no later than May 15. Blake can make the signed copy out to your name, but cannot do personalized messages.
— From
Pre-Orders
Description
---
Memory makes reality.
 
That's what NYC cop Barry Sutton is learning, as he investigates the devastating phenomenon the media has dubbed False Memory Syndrome—a mysterious affliction that drives its victims mad with memories of a life they never lived.
 
That's what neuroscientist Helena Smith believes. It's why she's dedicated her life to creating a technology that will let us preserve our most precious memories. If she succeeds, anyone will be able to re-experience a first kiss, the birth of a child, the final moment with a dying parent.
 
As Barry searches for the truth, he comes face to face with an opponent more terrifying than any disease—a force that attacks not just our minds, but the very fabric of the past. And as its effects begin to unmake the world as we know it, only he and Helena, working together, will stand a chance at defeating it.
 
But how can they make a stand when reality itself is shifting and crumbling all around them?
 
At once a relentless pageturner and an intricate science-fiction puzzlebox about time, identity, and memory, Recursion is a thriller as only Blake Crouch could imagine it—and his most ambitious, mind-boggling, irresistible work to date.
 
About the Author
---
BLAKE CROUCH is a novelist and screenwriter. His novels include the New York Times bestseller Dark Matter and the international-betselling Wayward Pines trilogy, which was adapted into a teleivsion series for FOX. He also co-created the TNT show Good Behavior, based on his Letty Dobesh novellas. He lives in Colorado.
Praise For…
---
"An action-packed, brilliantly unique ride that had me up late and shirking responsibilities until I had devoured the last page. A fantastic read."
—Andy Weir, #1 New York Times bestselling author of The Martian
 
"Blake Crouch has invented his own brand of page-turner--fearlessly genre-bending, consistently surprising, and determined to explode the boundaries of what a thriller can be."
—Karin Slaughter, #1 internationally bestselling author of Pieces of Her
 
"Brilliant. Crouch's innovative novels never fail to grip!"
—Sarah Pekkanen, #1 New York Times bestselling co-author of The Wife Between Us and An Anonymous Girl
 
"A masterful mind-bender of a novel. Crouch brilliantly infuses his story with dire repercussions and unexpected moral upheaval, and leaves you wondering what you would do if you had the chance to turn back the clock." 
—Mark Sullivan, #1 New York Times bestselling coauthor of the Private series and author of Beneath a Scarlet Sky
 
"Crouch isn't just a world-class thriller writer, he's a Philip K. Dick for the modern age. Recursion takes mind-twisting premises and embeds them in a deeply emotional story about time and loss and grief and most of all, the glory of the human heart."
—Gregg Hurwitz, #1 internationally bestselling author of the Orphan X series

"Cutting-edge science drives this intelligent, mind-bending thriller...Crouch effortlessly integrates sophisticated philosophical concepts into a complex and engrossing plot. Michael Crichton's fans won't want to miss this one."
--Publishers Weekly (starred)