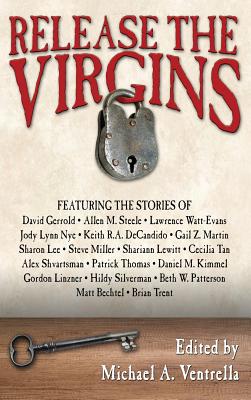 $25.99

Usually Ships in 1-5 Days
Description
---
It was during a late-night conversation that the phrase "Release the Virgins" was spoken. Seemingly nonsensical, it stuck in our minds, and turned into a group project that would lead to an anthology.
We brought the idea to a crowd-funding site, which interested enough people to provide the seed funding to turn this anthology into reality. We took that springboard, and gave eighteen talented authors the task of writing a great story with only one guideline: the story had to include the phrase "Release the Virgins."
The results are surprisingly varied and creative: science fiction, fantasy, outright comedy, serious imaginings... in this anthology, you'll find Manhattan gangsters, sad superheroes, marathon-running aliens, teenage Cthulhu worshippers, ghost dinosaurs, computer hackers, and even a unicorn or two. And we think you'll agree: it's a good thing that phrase stuck in our minds.
Featuring stories by: Nebula, Hugo, and Stoker Award-winner David Gerrold; Hugo Award-winners Allen M. Steele and Lawrence Watt-Evans; IAMTW Grandmaster Keith R.A. DeCandido; Skylark Award-winners Daniel M. Kimmel, Sharon Lee, and Steve Miller; WSFA Small Press Award-winner Alex Shvartsman; and Matt Becthel, Shariann Lewitt, Gordon Linzner, Gail Z. Martin, Jody Lynn Nye, Beth W. Patterson, Hildy Silverman, Patrick Thomas, Cecilia Tan, and Brian Trent.
"Release the Virgins is a hoot of an anthology Fun, weird, and wildly entertaining " --Jonathan Maberry, New York Times bestselling author of Deep Silence and V-Wars