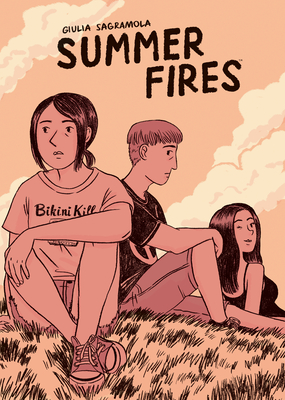 Description
---
In Giulia Sagramola's first long-form graphic novel, we follow the story of two sisters, Rachel and Sylvia, as they come of age in a typical Italian town.

The two find themselves faced with the tough choices of teenaged life, which mirror the fires in the surrounding hillsides of the town, as one decision or another leads to unsettled feelings and desires.

This wonderfully and meticulously illustrated tale takes all of the consternation and heartbreak we know too well from teenaged life, and puts it on display in a beautiful and subdued package. Summer Fires is presented here for the first time in English.

About the Author
---
Giulia Sagramola was born in Fabriano, Italy (1985). She studied visual communication at ISIA Urbino and illustration at Escola Massana. Since then she has been developing personal projects like self-publishing and handmade objects. Afterward, she lived 5 years in Bologna where she worked 6 months for BilBOlBul Comic Festival, then moved to freelancing full-time.

Since 2010 she has self-published books under the name of Teiera, with Sarah Mazzetti and Cristina Spanò, the label counts more than 20 issues between books and zines involving artists from all over the world. For Teiera she worked as art-director, graphic designer and curator as well as a contributor with her own artwork.

She spent 2015 in an art residency at the Maison des Auters in Angoulême (France) where she made her graphic novel Incendi Estivi (Bao Publishing).

During the years her work has been honored by Bologna Children Bookfair, American Illustration, 3x3 Picture Book Show and the Society of Illustrators. Her last picturebook Sonno Gigante Sonno Piccino (Topipittori), written by Giusi Quarenghi, won a merit award at 3x3 Annual Picture Book.

She likes traveling, reading novels and comics, watching tv-series, eating gelato and stalking dogs. She now lives in Barcelona where she shares a studio with fellow illustrators.