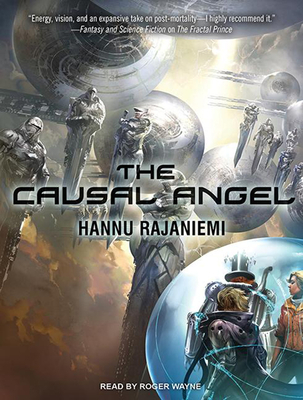 Email or call for price and availability
Description
---
With his infectious love of storytelling in all its forms, his rich characterization, and his unrivalled grasp of cutting-edge science, Hannu Rajaniemi has swiftly set a new benchmark for SF in the twenty-first century. Rajaniemi's future is one in which quantum effects can be manipulated by the powerful to unknowable ends; an era in which some are gods and billions of others are enslaved for the processing power of their brains; where in the inner Solar System, the once-human Sobornost endlessly iterate themselves in vast, planet-sized guberniyas, while casually running experiments on the photosphere of the sun. In this world, Jean le Flambeur has broken out of a virtual prison and, later, into the mind of a living god. Now his one-time rescuer, the warrior Mieli, is a prisoner herself. To get her back, Jean will need tools: A quantum pyramid scheme, a pair of physical bodies, a nugget of computronium, a bunch of entangled EPR pairs, and a few very special hydrogen bombs. Jean le Flambeur, gentleman adventurer, is back. The solar system will tremble from one end to the other before he's done.
About the Author
---
Hannu Rajaniemi is a Finnish author of science fiction and fantasy short stories and novels, who writes in both English and Finnish. Some of his works include the Jean le Flambeur series, "Elegy for a Young Elk," and "Deus Ex Homine." He lives in Edinburgh, Scotland.

Roger Wayne began writing and playing with voices at a very young age, which eventually led to his performing Shakespeare and having large roles in short and feature-length independent films, as well as radio and TV commercials. Roger's approach to his career largely involves using the power of voice as the center of everything he does as an actor.