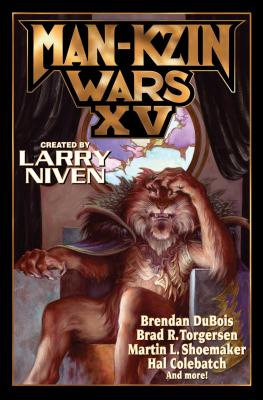 $16.00

Usually Ships in 1-5 Days
Other Books in Series
This is book number 15 in the Man-Kzin Wars series.
Description
---
THE POPULAR MAN-KZIN WARS SERIES ROARS BACK INTO ACTION! New stories of the war between humanity and the catlike Kzin from Brad R. Torgersen, Brendan DuBois, Martin L. Shoemaker, and more!

THE WAR BETWEEN HUMANITY AND THE KZIN REIGNITES!

The predatory catlike warrior race known as the kzin never had a hard time dealing with all those they encountered, conquering alien worlds with little effort. That is until they came face to face with the leaf-eaters known as humans. Small of stature and lacking both claws and fangs, the humans should have been easy prey. But for years now the humans and the kzin have been engaged in a series of wars, with neither side able to declare decisive victory once and for all.

A new collection of short stories set in the Man-Kzin Wars shared universe created by multiple New York Times best seller, incomparable tale-spinner, and multiple award-winner Larry Niven.

About the Man-Kzin War Series:

"[The Man-Kzin Wars series is] excellent . . .gripping . . .and expands well on Larry Niven's universe. . . ." –Locus

About series creator Larry Niven:
"Niven's masterly use of SF strategies hits every note. . ."–Los Angeles Time
About the Author
---
Larry Niven is the multiple Hugo- and Nebula Award-winning author of the Ringworld series, along with many other science fiction masterpieces. With Jerry Pournelle, he is the author of the all-time SF classic The Mote in God's Eye and subsequent books in the series, as well as the novels in the Heorot series. He lives in Chatsworth, California.