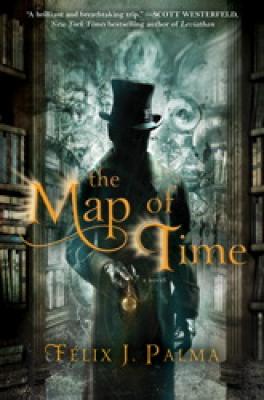 $26.00
Email or call for price.
July 2011 Indie Next List
---
"When H.G. Wells releases his new novel The Time Machine, he has no idea about the series of events he will set in motion. Join Wells on this romp through time as he tries to set Victorian London, literature, and his life back in order. Characters and events both real and imagined weave together in the three story lines that form this engaging and creative tale with all the twists, turns, and paradoxes that every good time travel book should have. Light the oil lamp, find a comfy chair, and enjoy!"
— Shawn Bridges, Literary Lion, Stephenville, TX
Description
---
THE PHENOMENAL INTERNATIONAL BESTSELLER
Set in Victorian London with characters real and imagined, The Map of Time boasts a triple-play of intertwined plots in which a skeptical H.G. Wells is called upon to investigate purported incidents of time travel and thereby save the lives of an aristocrat in love with a murdered prostitute from the past; of a woman bent on fleeing the strictures of Victorian society; and of his very own wife, who may have become a pawn in a 4th-dimensional plot to murder the authors of Dracula, The Time Machine and The War of the Worlds, in order to alter their identities and steal their fictional creations.
But, what happens if we change history? FÉlix J. Palma raises such questions in The Map of Time. Mingling fictional characters with real ones, Palma weaves a historical fantasy as imaginative as it is exciting, a story full of love and adventure that also pays homage to the roots of science fiction while transporting its readers to a fascinating Victorian London for their own taste of time travel.