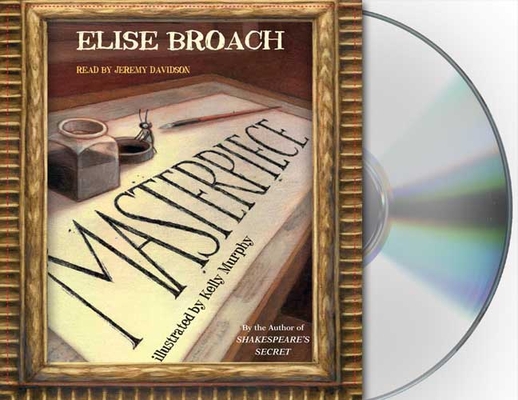 $29.95
Email or call for price.
Fall 2008 Kids' List
---
"A marvelous story about a boy who doesn't fit in, a beetle who longs for adventure, and how they find each other. The interaction between the two rings true even as they become involved in an art heist at the Museum of Modern Art."
— Trish Brown, Hooray for Books!, Alexandria, VA
Description
---
Marvin lives with his family under the kitchen sink in the Pompadays' apartment. He is very much a beetle. James Pompaday lives with his family in New York City. He is very much an eleven-year-old boy.After James gets a pen-and-ink set for his birthday, Marvin surprises him by creating an elaborate miniature drawing. James gets all the credit for the picture and before these unlikely friends know it they are caught up in a staged art heist at the Metropolitan Museum of Art that could help recover a famous drawing by Albrecht D rer. But James can't go through with the plan without Marvin's help. And that's where things get really complicated (and interesting ). This fast-paced mystery will have young readers on the edge of their seats as they root for boy and beetle.
In
Shakespeare's Secret
Elise Broach showed her keen ability to weave storytelling with history and suspense, and
Masterpiece
is yet another example of her talent. This time around it's an irresistible miniature world, fascinating art history, all wrapped up in a special friendship-- something for everyone to enjoy.
About the Author
---
ELISE BROACH is the author of the ALA Notable Book Shakespeare's Secret and Desert Crossing. She holds undergraduate and graduate degrees in history from Yale University. She lives with her family in Easton, Connecticut. KELLY MURPHY has illustrated many books for children, including Gallop-O-Gallop. She lives in North Attleboro, Massachusetts.
Praise For…
---
"It's better to turn to a book for young listeners that delivers on the full power of audio to create an alternate and real universe. That potential is fully realized in Masterpiece by Elise Broach...Marvin and his opinionated family are an auditory delight, and the reading by Jeremy Davidson is entertaining, for adults and children alike." – Winston-Salem Journal  "Jeremy Davidson brings an eager, animated voice to Elise Broach's Masterpiece...The many voices and range of moods, from ruefulness to elation, ably convey the perplexities and ingenuities that arise when a boy and a bug team up to take on the world." – The Washington Post
"Davidson skillfully portrays the various characters, easily transitioning between their voices. This marvelous story is sure to be a hit with middle school students." – School Library Journal, Starred Review
"Actor Jeremy Davidson uses his versatile voice and excellent timing to deliver a superb reading… [He] doesn't miss a beat in dramatizing this tale's strong emotions and making us empathize with Marvin and James. It's compelling listening." – Sacramento Bee
"Davidson convincingly conveys James' emotions, from fear to sadness. Light and bouncy orchestral accompaniment is reminiscent of a walk through Central Park on a warm spring day. Ideal family listening fare." – Booklist
"With contagious pleasure, Jeremy Davidson introduces young listeners to the artist Durer…. Listeners will soak up this engaging mystery replete with art trivia." – AudioFile
"Jeremy Davidson's reading of this audiobook is stellar. He captures James' fears and concerns, his loneliness, and his joy when he makes a friend. The emotions that Davidson manages to convey in his voice are ones that any listener will respond to and be able to identify with." – www.lookingglassreview.com
"Brilliantly crafted by Elise Broach, the audio version of this title is an engaging romp for middle-grade listeners who may discover there's more than meets the eye, when you read with your ears." - Birmingham Parent
"A fast-paced mystery now on five audio CDs, "Masterpiece" is dramatically told by actor Jeremy Davidson, and is 5.5 hours of suspenseful audio entertainment for middle graders." – Creators.com