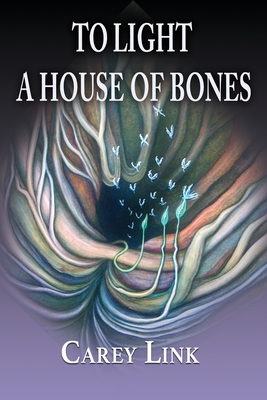 $12.00

Usually Ships in 1-5 Days
Description
---
The poems of Carey Link's To Light a House of Bones repeatedly locate and celebrate a point of grace and balance and buoyancy "between earth and sky." Earth's restrictions are heavy and real, but in a suspended cradle, a hammock, the palm of a mother's hand - even in a wheelchair - the poet is borne up and sustained by the "breath" and "breeze" of language. She sways, glides, takes wing, like two dancers holding palms and "spin ning] circles together" in a pool of water. The delicately nuanced poems are compact, powerful - dazzling over and over, in the words of Emily Dickinson, with "truth's superb surprise." All this as "language blooms infinite colors" like a multicolored scarf - "azure, yellow rose, / orange sun, / and indigo sky.
- Harry Moore, author of Bearing the Farm Away and
Broken and Blended: Love's Alchemy.
Reading Carey Link's new collection, I found myself breathing more slowly, easing into a world of light, color, and, most importantly, attentiveness to the moment. These poems of hard-earned transcendence admit that, yes, we all live in a 'house of bones' but also assert the possibility of transcendence: through language, through the tenderness of the mother-daughter bond, through lyrical vision. Floating in this book, I felt an amniotic sustenance, a challenge to be continually reborn, and to live fully.
- Jennifer Horne, Alabama Poet Laureate, author of Bottle Tree and
Borrowed Light, Little Wanderer
To Light a House of Bones is a beacon of beauty "between earth and sky." Carey Link has assembled a collection of small poems made of immense images - a wren glides with pieces of earth and sky on her wings/I sway in the wings of your joined hands. Link skillfully weaves between the pages subtle undertones of lifting, flying, and soaring beyond physical restrictions. From "waist-high in a wheelchair," she extends an invitation to the reader to join her on wings made of water and to be awed by her courage and strength.
- Loretta Diane Walker, member of the Texas Institute of Letters and
author of five collections including Word Ghetto and In This House,
winner of the Phillis Wheatley 2016 Book Award
Carey Link lives in Huntsville, Alabama. In 2008, she graduated with a B.A. in psychology from the University of Alabama, Huntsville. Carey is living with Cerebral Palsy. In 2017, two years after developing metastatic breast cancer, she medically retired from sixteen years working in civilian personnel and Equal Employment Opportunity as a civil servant on Redstone Arsenal.
Coping with her disabilities has taught her patience and gratitude. She has never stopped moving forward, and is working toward a Masters in counseling at Faulkner University. After she completes her degree, her goal is to work with clients living with life-altering illnesses and conditions.