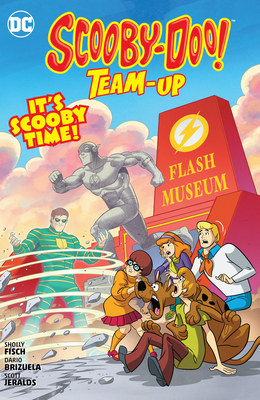 $12.99
Email or call for price.
Description
---
ZOINKS! Get ready for more groovy team-ups of Scooby and he gang in Scooby-Doo Team-Up: It's Scooby Time!

Scooby-Doo and the whole mystery-solving gang are back at it again with these collaborative capers! Over the years, Scooby and the gang have nabbed enough nefarious villains to fill a rogues gallery. But the tables are turned when they have to help a rogues gallery of the Flash's most malicious super-villains! Can the Scooby gang rescue Flash's Rogues from the ghost of that sinister spinner, the Top? Plus, Dastardly and Muttley, Black Lightning, Batman and more!

Check out all these zany adventures in Scooby-Doo Team-Up: It's Scooby Time! From writer Sholly Fisch (Teen Titans Go!) and artist Dario Brizuela (Green Lantern: The Animated Series), these wacky capers are sure to delight readers of all ages. Collects Scooby-Doo Team-Up #44-50.
About the Author
---
Sholly Fisch is a writer of screen and page whose past work includes Teen Titans Go!, Super Friends, and several issues of The Brave and the Bold, including the story "Night of the Batmen," wherein all the other superheroes dress up in homemade Batman costumes to fill in for the Dark Knight, and "A Batman's Work Is Never Done," which features short two-page team-ups with a slew of different heroes.