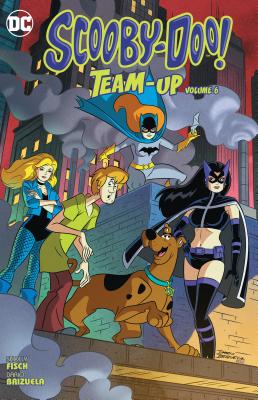 $12.99
Email or call for price.
Description
---
Get ready for more groovy team-ups of Scooby, the gang and some surprising guest stars-including The Atom, The Legion of Super-Heroes, Batgirl and more--in Scooby-Doo Team-Up Vol. 6!

You think Scooby and the gang have seen it all? Just wait, as the gang's latest cases lead them to the wackiest corners of the DC Universe!

Normally, ghosts make Shaggy want to curl up small to hide. But that won't help him this time--not when the Atom shrinks Scooby and the gang down for a trip to a haunted subatomic world, where they'll face "The Ghost at the Heart of the Atom!" Then the gang finds out that the Legion of Super Heroes' clubhouse is haunted, and even these superheroes can't save themselves without the help of Scooby and the gang.

Tune into this latest volume of Scooby-Doo Team-Up to find even more bizarre and groovy stories! This Vol. 6 includes appearances from the Atom, Atom Ant, The Legion of Super Heroes', the Birds of Prey (Batgirl, Black Canary and more), and the gang even take a trip to Jellystone Park and run into Ranger Smith, Yogi Bear and Boo Boo! Jump in the Mystery Machine and join the gang as they travel through the DC Universe and Hanna-Barbera lands to solve mysteries and encounter monsters and ghosts!

Collects Scooby Doo Team-Up #31-36.
About the Author
---
Sholly Fisch is a writer of screen and page whose past work includes Teen Titans Go!, Super Friends, and several issues of The Brave and the Bold, including the story "Night of the Batmen," wherein all the other superheroes dress up in homemade Batman costumes to fill in for the Dark Knight, and "A Batman's Work Is Never Done," which features short two-page team-ups with a slew of different heroes.
Praise For…
---
"You think Scooby and the gang have seen it all? Just wait till the gang's latest case leads them to the wackiest corners of the DC Universe." --CBR