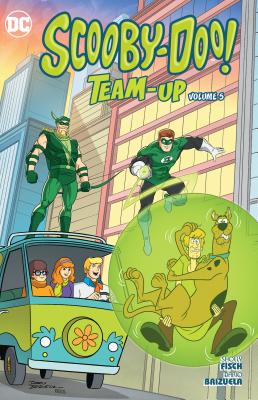 $12.99
Email or call for price.
Description
---
Grab your Scooby Snacks and join writer Sholly Fisch (Teen Titans Go!) and artist Dario Brizuela (Green Lantern: The Animated Series) for a set of colorfully designed all-ages adventures starring the Scooby gang and your favorite characters in Scooby-Doo Team-Up Vol. 5!

From Western bounty hunters to superheroes, everyone needs help from Mystery Inc.! Scooby-Doo, Shaggy, Velma, Daphne and Fred pack up the Mystery Machine and head to the hippie city of Karma Corners...and everything seems groovy until a group of ghostly parents forces the party to end! Can the team--assisted by Green Lantern and Green Arrow--find out what these guilt-causing ghosts truly want from the town? Then, Scooby and his friends learn more than just karate moves from Hong Kong Phooey when fire-breathing kung fu dragons take over a town.

But the Mystery Inc. crew's not done tackling cases just yet. When a fortune-teller makes Plastic Man's sidekick Woozy Winks doubt his own fate, the gang investigates the wacky psychic's claims! They meet Jonah Hex and the monster of the Old West, and run into Top Cat and his group of famous felines to find out just why Hoagy's Alley is haunted. These meddling kids then clash with the Challengers of the Unknown, who think they can't solve a real supernatural mystery! Will the teen sleuths prove the Challengers wrong and deliver the Mystic Elixir serum to the Gnome King?

Collects Scooby-Doo Team-Up #25-30.
About the Author
---
Sholly Fisch is a writer of screen and page whose past work includes Teen Titans Go!, Super Friends, and several issues of The Brave and the Bold, including the story "Night of the Batmen," wherein all the other superheroes dress up in homemade Batman costumes to fill in for the Dark Knight, and "A Batman's Work Is Never Done," which features short two-page team-ups with a slew of different heroes.
Praise For…
---
"A fun read that is sure to put a smile on the faces of every reader fortunate enough to pick it up." --CBR