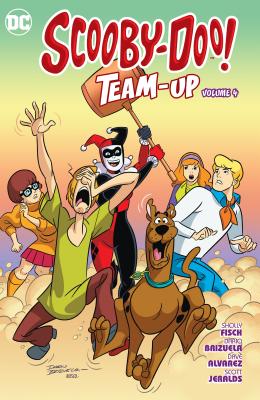 $12.99
Email or call for price.
Description
---
Scooby and the gang team up with some of the greatest heroes of the DC Universe, including Harley Quinn, Martian Manhunter, Zatanna, Hawkman and more in SCOOBY-DOO TEAM-UP VOL. 4!
 
Magic tricks and spooky scares are everyday occurrences at the Mystic Mansion, but when famous magician Zatanna Zatara's father goes missing, she needs the help of the professionals at Mystery, Inc. to find him! And deep in outer space, Scooby-Doo, Shaggy, Velma, Daphne and Fred join a very different sort of ghost than they're used to in order to investigate a mysterious message on the moon. Back on Earth, someone new wants to join the team—none other than the Clown Princess of Crime, Harley Quinn!
 
And when Frankenstein Jr. unleashes a robotic rampage across the city, Scooby and the gang will team up with the Impossibles to do the impossible and solve the mystery of who turned this superhero into a supervillain! Then the team from the Mystery Machine takes a trip to Gopher Gulch, where they meet Quick Draw McGraw and his nemesis, the Fastest Ghost in the West! Finally, Martian Manhunter calls on Scooby-Doo to help clear the names of all the aliens living on Earth—including innocent superheroes like Starman, Starfire and Hawkman!
 
The World's Greatest Super Heroes team up with your favorite ghost-busting detectives in these all-ages adventures from writer Sholly Fisch (TEEN TITANS GO!) and artist Dario Brizuela (GREEN LANTERN: THE ANIMATED SERIES), and solving mysteries has never been so much fun!
 
Collects SCOOBY-DOO TEAM-UP #19-24.
About the Author
---
Sholly Fisch is a writer of screen and page whose past work includes TEEN TITANS GO!, SUPER FRIENDS and several issues of BRAVE AND THE BOLD, including the story "Night of the Batmen," wherein all the other superheroes dress up in homemade Batman costumes to fill-in for the Dark Knight, and "A Batman's Work Is Never Done," which features short two-page team-ups with a slew of different heroes.
Praise For…
---
"A fun read that is sure to put a smile on the faces of every reader fortunate enough to pick it up." --CBR