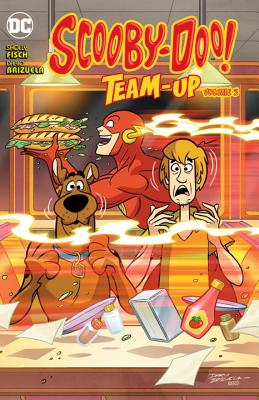 $12.99
Email or call for price.
Description
---
The gang's all here! Scooby-Doo and his friends are teaming up with the most unlikely superheroes to save the world, solve mysteries and eat some Scooby Snacks!

From the depths of the ocean to the heart of Africa, Scooby and the gang must investigate the deadliest threats imaginable! That is, with a little help from DC's greatest superheroes. The team is ready to take some action, and they get a little help from the Flash, Aquaman, Shazam and more! 

An all-ages series that collects SCOOBY-DOO TEAM-UP #13-17.
About the Author
---
Sholly Fisch is a writer of screen and page whose past work includes Super Friends, and several issues of BRAVE AND THE BOLD, including the story "Night of the Batmen," wherein all the other superheroes dress up in homemade Batman costumes in order to fill-in for the Dark Knight, and "A Batman's Work Is Never Done," which features nothing but short, two-page team-ups with a slew of different heroes.